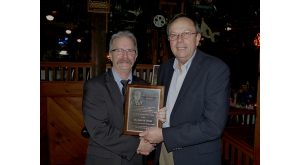 Pictured are Dr. Spore (L) and Jerry Cox, Executive Director of Family Council (R)
Ozark Surgical Group's Dr. John Spore, of Mountain Home, is the recipient of the 2018 Fay Boozman Award, given annually by the Arkansas Physicians Resource Council division of Family Council. According to the organization, in honor of the late Dr. Fay Boozman, this award honors Christian physicians who live as Dr. Boozman lived—striving to honor and glorify God by cherishing his family, and serving well in his medical practice, in his ministry to church, community and world missions, and as a leader in his state.
Dr. Spore was honored with the award at a surprise dinner with family, friends and colleagues on Saturday, at Gaston's Restaurant. Nominated by Dr. Lonnie Robinson, Dr. Spore was selected by a panel which reviews nominations from across the state and interviews the nominees' families and friends.
A graduate of Sterling College and The University Kansas Medical School, Dr. Spore moved to Mountain Home in 1988 and joined Ozark Surgical Group. He says he loves Mountain Home, its beauty and its people.
In nominating Dr. Spore, Dr. Robinson says, Spore is known as a Christ-follower by his patients, colleagues and other staff members. He says Spore's faith is evident to those around him, whether he is on the hospital floors, in the operating room, or busy in clinic. His interactions with nursing and operating room staff reflect his commitment as a Christ-follower, and he regularly shares this faith with patients and others that come across his path.
Through his church, Dr. Spore became involved in several medical missions in Brazil for a number of years. After a local group returned from a trip to Brazil one year, two local churches joined together to start the Mountain Home Christian Clinic. Dr. Spore served on the Board of Directors for the clinic for many years. He has provided care to many in the Mountain Home area regardless of their financial circumstances.
For the last several years, Dr. Spore and his wife Cheryl have been involved with and passionate about the Hope Rising Children's Home in Haiti. He has regularly led multiple teams of physicians, nurses, pharmacists and other volunteers on mission trips to the orphanage. They are excited a medical clinic is now being built on the Hope Rising property.
The Spore's have been married for 38 years and have raised four children.
WebReadyTM Powered by WireReady® NSI