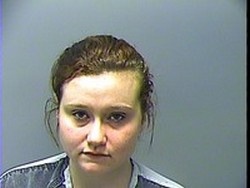 The trial of a Marion County woman facing charges stemming from her alleged role in the death of her toddler daughter has been continued.
The trial of 22-year-old Anastasia Weaver of Flippin was scheduled for last Thursday and has been continued until April 30th, according to the order of continuance filed Monday in Marion County Circuit Court.
Weaver is charged with permitting child abuse and manslaughter. The charges stem from her alleged role in the death of her toddler daughter, Alithia Ivory Boyd, in May 2016. Weaver was arrested in early September 2016 following an extensive investigation into the incident.
Weaver's boyfriend at the time, 24-year-old Cody Allen, pled guilty to causing the death of the little girl. Allen was sentenced to life in prison during a session of Baxter County Circuit Court in October 2017.
The case began when officers were called to a Flippin apartment complex along North Eighth Street just before 10 p.m. for an unresponsive child, later identified as Alithia Boyd.
When police officers arrived, first responders were treating the child in the bathroom area of the apartment. Officers noted severe bruising to the child's head and shoulders.
Officers were initially told the girl had fallen down a set of stairs, but in court records, investigators indicated the injuries appeared to be too severe to have been caused by such a fall.
More investigative details in the case were released after Allen's guilty plea.
The probable cause affidavit in Allen's case indicates at one point Weaver admitted she lied to first responders about having firsthand knowledge the child fell down the stairs. She said she actually did not know how her daughter sustained the injuries.
She said she had been away from the apartment visiting a relative and had left her two children with Allen. She said when she returned and noticed the bruising and other injuries, she had asked Allen what happened, and he said the child had fallen down the stairs.
Weaver said she told Allen she did not believe his story, and he then said he must have had a seizure and fallen on the child. She told investigators the child was playing and did not seem to be acting unusual at that point so she took no further action.
Weaver told investigators she laid the child down for a nap about 6:30 p.m. on May 1st, 2016, and the child remained in her room for about three hours. At that point, Weaver said she heard unusual noises coming from the room where her daughter was napping. She described the noises as whimpering. She said she went to check on the child and found the infant to be very hot, sweating and having what were described as "uncontrollable body movements."
Weaver said Allen was present in the apartment at the time and asked her not to call 911. She said, however, she was concerned what would happen to her daughter if the little girl went without medical attention and made the 911 call. Weaver said she made the call despite her fear Allen might seriously harm her if she did.
Weaver said Allen became upset and told her if she called for assistance, he would "go to prison for something I did not mean to do." She said Allen then fled the apartment.
The infant was flown to Mercy Hospital in Springfield.
As Flippin police officers and members of the child's family gathered at the hospital, Weaver was again questioned regarding the circumstances surrounding the life-threatening injuries her daughter had sustained.
The medical team at the Springfield hospital said if she child survived, which was problematic, the little girl would be severely mentally handicapped and would most likely never walk again.
The child was described by medical personnel at Mercy Hospital as having numerous injuries to the head and neck. There was severe bruising to the entire left side of her face and forehead and to the right side of her forehead. She was also bruised on the shoulder area of her left arm and near the elbow area of her left hip. The child had a circular burn on her stomach area approximately the size of a dime. The medical personnel said, in their opinion, some of the injuries came from her being struck with an object of some kind.
Because of the dire prognosis, life support devices were removed, and it was announced on Friday, May 6th, 2016 the little girl had succumbed to her injuries. Her death came just 10 days in advance of her second birthday.
In speaking to a police officer at the Springfield hospital, Weaver began to open up regarding her relationship with Allen and the injuries her daughter sustained.
She said she had noticed bruising on her children before, but had not reported it because of her fear of Allen. She alleged Allen had been abusive toward her, as well as her children, during their five-month relationship.
Weaver alleged she had lost a baby recently because Allen had punched her four times in the stomach in order to induce a miscarriage.
She described one occasion in which Allen had gotten her in a headlock and attempted to gouge one of her eyes out with his finger. She said she had bitten him to stop the attack. Officers noted Allen did have bite marks on his left arm.
Weaver described a number of violent physical encounters with Allen, and said he had threatened to kill her if she reported the abuse to law enforcement.
Weaver quoted Allen as telling her if he were arrested for abusing her, he would bond out of jail and could kill her even if an order of protection was issued by a court prohibiting him from contacting her. Allen is reported to have said the order of protection was just a piece of paper, and she would be dead by the time law enforcement came to arrest him for violating it.
Investigators noted Weaver had cuts, scrapes, and bruises covering almost her entire body in various stages of healing.
Allen was arrested related to the Alithia Boyd case in the early morning hours of May 2, 2016. In an interview with police, Allen said he could understand why he was being blamed for the incident. He said Weaver would never do anything to harm her children. He repeated the only thing he could think of to explain the injuries was that he had a seizure and fell on the child.
WebReadyTM Powered by WireReady® NSI