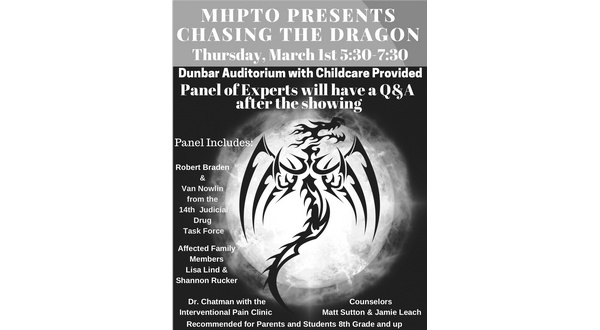 The Mountain Home Parent Teacher Organization and Mountain Home Public schools will host a community viewing of "Chasing the Dragon" Thursday evening, from 5:30 to 7:30 at Dunbar auditorium. The event is designed to promote awareness of the opioid crisis in the Twin Lakes Area and to discuss the crisis on a local level. The film should not be viewed by any children below eighth grade, and childcare will be available during the event in the Dunbar Auditorium lobby.
"Chasing the Dragon" is a documentary released by the FBI and the Drug Enforcement Agency to combat the opioid epidemic in the United States. After the viewing, a local panel of experts will be available for a question and answer session. Members of the 14th Judicial Drug task force, local counselors, medical professionals, and family members who have been affected by opioid addiction will serve as the panel members.
The panel includes Robert Braden and Van Nowlin from the 14th Judicial Drug Task Force, Dr. Chatman with the Interventional Pain Clinic, and Counselors Matt Sutton and Jamie Leach. The discussion will also include family members affected by opioid abuse. Lisa Lind has a son who was addicted to opioids and is now in recovery. Shannon Rucker has a cousin who died three years ago as a result of opioid abuse.
Leah Coleman, Co-President of the MHPTO helped organize the event. She says she wanted parents to know how serious the epidemic has become. She says the video is an eye opener. It depicts how the opioid epidemic is hitting families in serious, sometimes deadly ways.
WebReadyTM Powered by WireReady® NSI