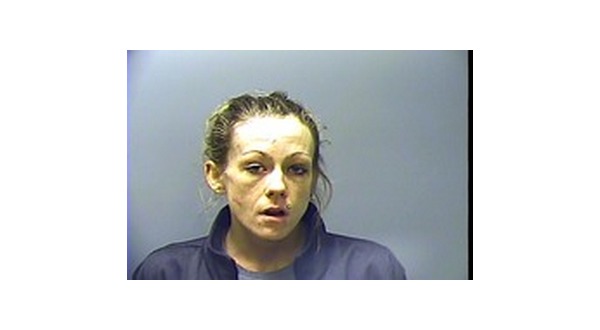 Bethany Marshall of Norfork was in Baxter County Circuit Court Thursday where she entered not guilty pleas to three criminal cases filed against her stemming from a short-lived but active crime spree.
Investigators were able to tie Marshall and Christian Blake Sisk, identified in court records as her boyfriend, either singly or together as perpetrators in a number of recent criminal activities.
Marshall is charged with participating in a break-in at an apartment located downstairs at a land office in Henderson in mid-February. A crossbow, hunting knives and clothing valued at about $1,200 were taken. Entry to the apartment was gained using a hammer to break the doorknob off.
The 25-year-old Marshall also faces charges stemming from an incident in which she falsely reported her 2011 vehicle stolen. According to the probable cause affidavit, an insurance company paid the lien holder -- a bank in Izard County -- almost $7,400 to cover the loss. It is alleged Marshall pocketed less than $300. Marshall filed the theft report with the Baxter County Sheriff's Office in late November last year alleging she had left the vehicle at the intersection of Highway 5 South and Dwelle Road after she said the car developed mechanical problems.
She reported when she returned to the vehicle, it had been taken.
About a month after the alleged theft of the vehicle was reported, it was found at another address along Highway 5 South. The vehicle was reported to have been extensively damaged and partially disassembled. During the investigation, facts were developed indicating the car had not been stolen, but had been taken with Marshall's knowledge and the help of at least two other individuals so an insurance claim could be made.
In mid-February, Marshall and Sisk were alleged to have entered a number of vehicles where cash, credit cards and other items were reported stolen. In addition, Sisk is alleged to have been involved in several breaking and entering type crimes. Investigators were able to tie Sisk to the crimes through video surveillance camera footage.
As the result of the investigation, Sisk was developed as a suspect in multiple crimes along a path from Norfork to Mountain Home to Springfield.
Marshall's charges include multiple counts of residential burglary, theft of property, forgery and filing a false report.
Sisk's criminal record grows longer with each passing year. Electronic court records show the 26-year-old Sisk has been charged with various crimes in 10 cases dating back to 2010 when he was a teenager.
New charges in connection with his latest crime spree were formally filed Thursday afternoon. Sisk also has two active criminal cases filed last year in which he is accused of stealing a number of items, including a pickup truck valued at $50,000 and a riverboat, outboard motor and trailer with an estimated value of $20,000.
Sisk has been in and out of the Baxter County jail on numerous occasions and has also served several sentences in the state prison system. In the newly filed cases, Sisk is expected to be charged under provisions of the Habitual Criminal Act.
Marshall was ordered to reappear in Circuit Court March 8th.
WebReadyTM Powered by WireReady® NSI