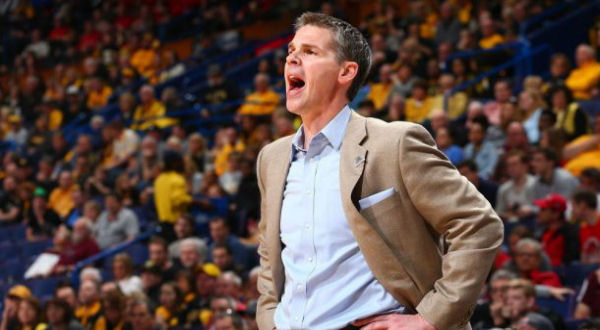 SPRINGFIELD, Mo. -- Missouri State University announced today (March 3) that Paul Lusk's contract has been canceled, and he will not return as men's basketball head coach. The announcement was made by President Clif Smart and Director of Athletics Kyle Moats during a news conference Saturday at JQH Arena.
"We evaluate all of our coaches at the conclusion of each season and monitor several criteria during the year," said Moats. "Based on my review, I consulted with President Smart on Friday evening and gave him my recommendation that we make a change in the coaching leadership of our men's basketball program. President Smart supported my recommendation. These decisions are never easy. However, we believe it is in the best long-term interest of our men's basketball program."
Smart noted the success of its athletics program has a direct impact on the overall reputation of Missouri State.
"A successful athletics program is an important part of a thriving university," said Smart. "It helps create student spirit and community engagement, and is an important part of our student recruitment and retention efforts. It often leads to financial contributions to the university and is part of our marketing goals."
Lusk will receive a $370,000 buyout from non-university funds for the remaining year of his contract.
Associate head coach Corey Gipson will oversee the day-to-day duties of the program until a new head coach has been named. Moats also noted that the team's other assistant coaches, Matt Sligh and Keith Pickens, will remain employed by the university until a replacement coach is hired.
"Paul ran our program with integrity," Moats stated. "Almost without exception, his student-athletes represented the university and the department in a positive fashion. He is a class individual who has always respected and appreciated the history and tradition of Bears Basketball."
Moats stated that a national search will begin immediately to find Lusk's replacement. Joining him on that search committee will be: Casey Hunt, MSU senior associate director of athletics; Rachael Dockery, MSU legal counsel; Ed Pinegar, community member; Joe Turner, community member; and Dr. James Satterfield, faculty member.
Lusk coached the Bears for seven seasons after taking the helm in April 2011. He compiled a 105-121 overall record in that span, including a 52-74 ledger in Missouri Valley Conference games. Missouri State advanced to the MVC Tournament semifinals twice -- 2014 and 2017 -- during Lusk's tenure. His best season was the 2013-14 campaign when he led the Bears to a 20-13 overall record and a trip to the CollegeInsider.com Postseason Tournament (CIT). The Bears posted winning records each of the last two seasons, including an 18-15 ledger this year.
"I want to thank the athletic department and leadership at Missouri State for the opportunity to coach the men's basketball program," said Lusk. "I will always cherish the relationships I've built here and the young men who have worked so hard for me and my staff. I wish the university tremendous success moving forward."
WebReadyTM Powered by WireReady® NSI