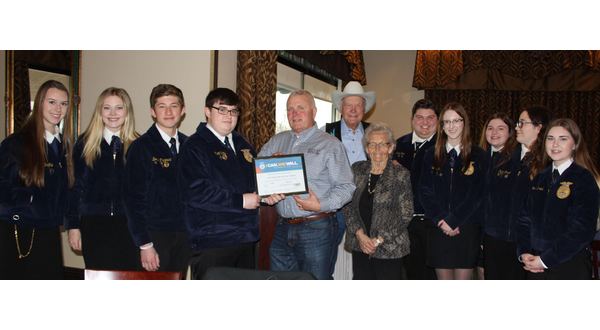 Marion County residents and Ranger Boats founders Forrest and Nina Wood were the guest speakers at the Mountain Home Future Farmers of America's annual breakfast. The annual event is held during National FFA Week observed this year from February 17th-24th. Over 135 members attended this year's breakfast at Big Creek Golf and Country Club. The breakfast event was coordinated and sponsored by Steve Litty of West Plains Bank and Trust.
National FFA Week embraces more than 90 years of FFA traditions while looking forward to the organization's future. More than 653,000 members with a passion for agriculture participated in activities at local, state and national levels.
Designated a national week in 1947, the week of George Washington's birthday, National FFA Week gives FFA members an opportunity to educate the public about agriculture. During the week, chapters conduct a variety of activities to help others in their schools and communities learn about FFA and agricultural education.
Mountain Home FFA celebrated National FFA Week by participating in the FFA breakfast sponsored by West Plains Bank and Trust, competition and participation in 14 career development events across the state including the University of Arkansas at Fayetteville, ASU-Beebe and the Northwest Fairgrounds in Harrison.
Today's FFA members are the innovators and leaders of tomorrow. Through agricultural education and hands-on learning, they are preparing for 255 unique career opportunities in the food, fiber and natural resources industries. National FFA Week is sponsored by Tractor Supply Company.
The National FFA Organization provides leadership, personal growth and career success training through agricultural education to 653,359 student members who belong to one of 8,568 local FFA chapters throughout the U.S., Puerto Rico and the U.S. Virgin Islands. The organization is also supported by 344,239 alumni members in 2,051 alumni chapters throughout the U.S.
Photo: Mountain Home FFA officers present Steve Litty, West Plains Bank and Trust, with a certificate of appreciation for coordinating and sponsoring the Annual FFA Breakfast. Left to right: Maddie Grothe, Grace Gilbert, Dominic Pizzimenti, Wyatt Petty, Steve Litty, Forest and Nina Wood, Jakob Penka, Kelsey Rohr, Taylor Richey, Peyton Barton, and Ashton Patrick.
WebReadyTM Powered by WireReady® NSI