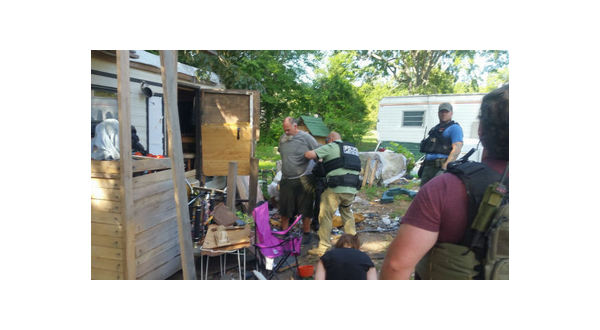 An Arkansas fugitive has been captured in Ozark County, following a search involving officers from the Baxter County Sheriff's Office, Arkansas Department of Correction and the Ozark County Sheriff's Department's community corrections special response team.
In a social media post Thursday Ozark County Sheriff Darrin Reed says an early morning raid resulted in Jason Krumsick and an unidentified female being arrested.Sheriff Reed noted methamphetamine and other drug-related items were confiscated in the raid. He says both individuals are expected to be charged and extradited to Arkansas.Sheriff Reed was not available for further details when contacted by KLTO, Classic Hits and The Boot news.In 2016, Krumsick, who had a Gepp address at the time, was captured following a two-state, four-county pursuit. At the time, Reed told the West Plans Daily Quill law enforcement had been on a 24-hour stakeout for Krumsick.A second man, 55-year-old David Wayne Blake of Caulfield, was charged with harboring a fugitive in connection with the incident.In the 2016 incident, Reed said the pursuit began in the Bakersfield area and ended in Howell County, when an Arkansas Department of Correction bloodhound located Krumsick.
The stakeout for Krumsick in 2016 began after Reed opted not to take the suspect down at a home where small children were present. The Baxter County man lead authorities on two pursuits, one in a truck and a second on a four-wheeler. He ditched both and ran into the woods where officers secured an area of two miles leading to his capture.
WebReadyTM Powered by WireReady® NSI