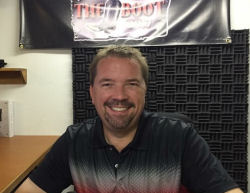 Brad Haworth
Operations Manager, Sports Director
The Boot Morning Show Host
brad@ktlo.com
 Brad's Bio
Name:
Brad Haworth
Family:
Wife – Mary Jo
Daughters – Kailey, Braydee and Karli Anne.
Step children – Adam, Mikey, Katie, Danny and Kevin.
What's on TV:
ESPN, some kind of ball game, Andy Griffith, NFL Network, Chicago Fire, Fox Sports Network, Pawn Stars, ESPN2, Seinfeld, ESPN Classic, Designated Survivor, MLB Network, Flintstones, Married With Children, King of Queens, Everybody Loves Raymond and Law & Order.
What's in my iPod:
Thomas Rhett, Hank Williams Jr., Huey Lewis & The News, ZZ Top, Zac Brown Band, Alabama, Earl Thomas Conley, Rodney Atkins, Van Halen, Fabulous Thunderbirds and Confederate Railroad.
Favorite movies:
Hoosiers, Gran Torino, Dumb & Dumber, Smokey & The Bandit, Porky's, The Pursuit of Happyness, Jerry Maguire, Caddyshack, Bull Durham, Major League and Brian's Song.
Magazine subscriptions:
ESPN the Magazine, Crocheting montly
Bookmarks:
ktlo.com, espn.com, kcchiefs.com. stlcardinals.com
Worst habit:
Procrastinating.
Love to trade places for a day with:
Hugh Hefner. I'm afraid one day at the Playboy Mansion is all I could handle.
First job:
Working in a bowling alley handing out smelly shoes all night
Talent I'd most like to have:
Can't think of any, I'm pretty talented!
Favorite foods:
Bacon, pizza, bacon, shrimp, bacon, chili dogs, bacon, tacos and bacon.
Favorite value in others:
Not being afraid to have plastic surgery.
My heroes:
My mom.
My bucket list:
Never made a list of my buckets, what a silly question. I have a blue five gallon and a white two gallon. I use them to wash my vehicle.
My hobbies:
Collecting baseball & football cards and sports memorabilia. Oh, and listening to my Slim Whitman record collection. What a voice!
Most memorable moment in radio
Broadcasting the Lady Bombers' eight overtime game in the 5A State Championship in 1994.
Best blooper on the air:
I was broadcasting a basketball game at Newport and was set up at the end of the bench. Mountain Home was playing for the last shot and the players stood up. Just as the shot was attempted, I had to stand up on the table to see and when I did, I kicked the phone cord out of the wall, ripping the end of it off. The shot went in but no one back home knew until the next day.
If I weren't in radio I would:
Travel the country entering hot dog eating contests.
What I'm most proud of:
My family
Favorite sports teams:
Kansas City Chiefs, St. Louis Cardinals, Missouri Tigers, Missouri State Bears and whoever is playing the Dallas Cowboys.
Memberships:
Voting member of the John Wooden Award which goes to the top college basketball player in the country each year.
Favorite expression:
"The Haworth curse strikes again!" It's a family curse that none of us can shake. We know we will never get ahead and everytime you get close, the curse strikes!
What best describes me:
A sick individual!