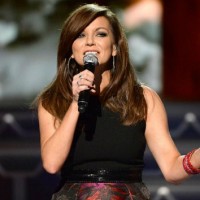 ABC/Image Group LAFour-time CMA Female Vocalist of the Year Martina McBride will be showing fans some love this fall. She'll kick off her Love Unleashed Tour October 14 in Missouri, with new duo High Valley joining her on select dates.
"With so much tragedy and uncertainty in the world, our family is watching less news and spending more time listening to music, sharing stories over dinner, and loving each other," Martina reflects. "I want this concert to be a place where people can share the common experience of music and how it can work its magic, as only music can — a place where we can come together and show our love for each other and head back out into the world a little stronger for having been there."
Tickets go on sale this Friday for select cities, with more dates to be announced later. Here's the latest itinerary for the Love Unleashed Tour:
10/14 — Poplar Bluff, MO, Black River Coliseum
10/15 — Lawrenceburg, IN, Lawrenceburg Event Center
10/21 — Tunica, MS, Gold Strike Millennium Theatre
10/22 — Cherokee, NC, Harrah's Cherokee Event Center
10/29 — Charenton, LA, Cypress Bayou Casino
11/11 — Stamford, CT, Palace Theater
11/18 — Dodge City, KS, United Wireless Arena
11/19 — Des Moines, IA, Hoyt Sherman Place
12/1 — Erie, PA, Warner Theatre
12/2 — Saginaw, MI, The Theater at the Dow Event Center
12/3 — Orillia, ON, Casino Rama
12/8 — Ft. Myers, FL, Barbara B. Mann Performing Arts Hall
12/9 — Clearwater, FL, Ruth Eckerd Hall
Copyright © 2016, ABC Radio. All rights reserved.