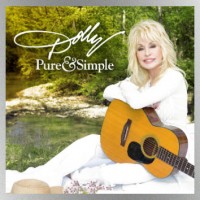 Dolly Records/RCA NashvilleDolly Parton's publicist recently joked that even though the icon's latest album is called Pure & Simple, it's actually anything but that! While the title refers both to a new song and to the collection's sparse arrangements, when it comes to the ways you can take it home, there are actually quite a few. Dolly's 43rd effort is available in three different versions in the U.S., with at least one more option internationally.
In addition to the standard single-disc of Pure & Simple, both Walmart and Cracker Barrel can boast exclusive editions with songs not available anywhere else.
For Walmart, Dolly added the tunes "Mama" and "Lovin' You," as well as a second disc titled Dolly's Biggest Hits, which includes her take on the Beatles' "Help!" as well as the gospel classic "How Great Thou Art."
On the Cracker Barrel exclusive, you can hear Dolly sing her hits "Jolene" and "9 to 5" live, from her triumphant 2014 gig at the Glastonbury Festival. International editions add even more tunes from the memorable set.
Copyright © 2016, ABC Radio. All rights reserved.