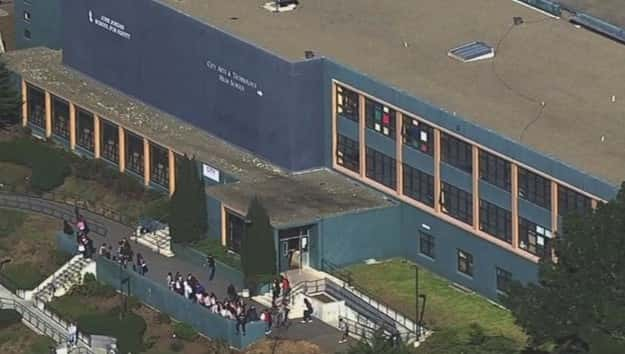 KGO-TV(SAN FRANCISCO) — Two people have been arrested in connection with Tuesday's shooting incident outside a pair of San Francisco high schools which left four students injured, police said Thursday evening.
"#SFPD has made two arrests in connection to the #JuneJordan High School shooting incident. This is an active & ongoing investigation," the San Francisco Police Department tweeted.
The shooting incident occurred Tuesday around 3:15 p.m., when four teenage students were shot in the shared parking lot of two San Francisco high schools, the June Jordan School for Equity and City Arts and Technology High School.
The shooting left one of the injured, a female student, in critical condition. Police said she may have been targeted, adding that the incident was "not a random shooting."
Police did not release any further details about the arrests, but according to ABC-owned KGO-TV in San Francisco, one of the suspects was arrested Thursday in Fairfield, a city located about 50 miles northeast from where the shooting happened. The second suspect was arrested Tuesday night, according to KGO-TV.
Copyright © 2016, ABC Radio. All rights reserved.