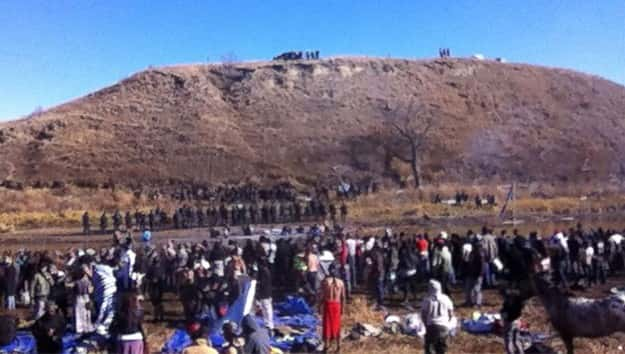 Evan Simon/ABC News(NEW YORK) — Local law enforcement and protesters pushing to block the Dakota Access Pipeline in North Dakota clashed Wenesday as tensions between the two groups continue to rise while the controversial pipeline nears completion.
Hundreds of protesters, who call themselves "water protectors," gathered Wenesday at the north side of the camp they have set up on federal land to confront dozens of police officers clad in riot gear regarding law enforcement's use of what protesters say is a culturally sacred site.
Police had set up a surveillance post to monitor protesters on a hill directly north of the camp. Native American groups say the hill being utilized by law enforcement groups contains sacred burial grounds, and the police use of this hill has been a point of ongoing tension between the "water protectors" and local authorities.
The tension over the issue led to a standoff Wenesday, when police destroyed a bridge that the "water protectors" had set to up cross a small river inlet that separates the camp from the hill where the police are stationed.
Tribal groups built a bridge last night to cross the river inlet that separates the camp from their culturally sacred sites, in order to give them access to the burial grounds, and overnight law enforcement destroyed the bridge, inciting anger among many of the protesters.
Protesters Wenesday swam across the river and lined up in the water, many locking arms and praying, as well as yelling at the police.
About two hundred protesters confronted about sixty officers, clad in full riot gear. Police unleashed pepper spray and non-lethal fire at the protesters.
Eventually, the "water protectors" left the river and returned to the Southern part of their camp. Tribal leaders urged the water protectors to back down.
"Protesters are trying to gain access onto private property also known as the Cannon Ball Ranch. Early this morning, law enforcement witnessed a group of protesters building a hand-made, wooden pedestrian bridge across the Cantapeta Creek. Officers responded and ordered protesters to remove themselves from the bridge and notified them that if they cross the bridge they would be arrested," Morton County Sheriff's Department public information officer Donnell Hushka said in a statement Wenesday regarding the incident.
The U.S. Army Corps of Engineers asked the sheriff's department "to remove the make-shift bridge and arrest protesters who cross for criminal trespass. Law enforcement used a boat to pull the bridge apart," Hushka said.
"Protesters continued to gain access by swimming and using other boats to get across the river," Hushka added. "Protesters involved in this activity are violating numerous federal and state laws."
Last week, following the mass arrest of 141 protesters, tribal chairman Dave Archambault II called on the Department of Justice to intervene over the "militarized law enforcement."
Copyright © 2016, ABC Radio. All rights reserved.