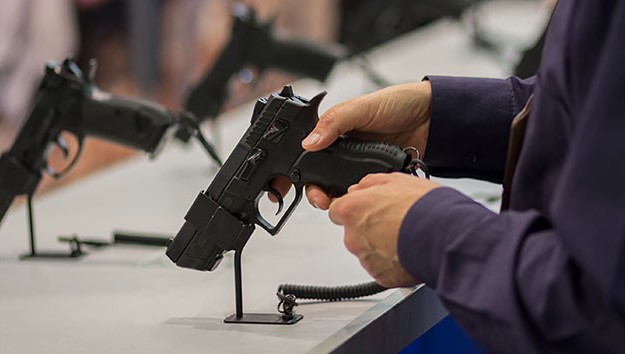 iStock/Thinkstock(NEW YORK) — Government data shows the number of people looking for gun permits is surging before Election Day — the 18th straight month of record numbers, according to the system for tracking background checks on gun sales.
In October, 2.3 million background checks for gun-related purchases were processed, setting an all-time monthly record, according to the FBI National Instant Criminal Background Check, known as NICS data.
"The approximate number of firearms units sold has increased. Part of that is because we're seeing a population increase across the country, it's currently hunting season and there is a pre-election impact," said Jurgen Brauer, an economics professor at Augusta University who specializes in the firearms industry. "Right now, there is a likelihood that a Democratic candidate is going to win, and industry sales reflect that."
Democrats are increasingly well-positioned to win control of the Senate in part to the potentially adverse down-ballot impact of Donald Trump's campaign, but it will be an uphill battle for the party to win the House of Representatives.
The next Congress will likely be under pressure from gun control advocates to regulate firearms, especially if there is another mass shooting.
Clinton would like to ban several types of assault weapons and even repeal protections for gun makers. She has also said she would create a comprehensive background check system and close loopholes.
Trump has been a staunch advocate of Second Amendment rights and said consistently at rallies during his campaign that if more people were armed, mass shootings like the one last year in San Bernardino, California, would be less deadly.
Republicans, many of whom are closely aligned with the National Rifle Association, have shown little interest in advancing gun bills and have voted to block Democrats' efforts to tighten controls. They likely will be able to do so in the next Congress as well.
In the wake deadly shooting rampages in the past, including in Orlando, Florida, the country has debated tighter gun control laws and, more specifically, the availability of military-style weapons.
But largely because of inaction in Congress, the gun control debate is no longer front and center at the federal level, although a handful of states, including California, are going to vote on new gun initiatives in next week's elections.
"Industry talk appears to suggest that a Clinton win will unleash new federal level firearms legislation. But so-called anti-gun advocacy groups have begun to shift their legislative and lobbying efforts more to the state levels than continuing at the federal level," said Brauer.
Key gun control groups said this election cycle they are not making an assault weapons ban as much of a priority because they think focusing on other policies, including universal background checks, are a more effective way to save lives. The Center for American Progress released a report suggesting ways to regulate assault weapons without banning them.
One concern among pro-gun activists is the balance of the Supreme Court that remains uncertain since the death in February of Justice Antonin Scalia. He wrote the 2008 decision District of Columbia v. Heller, which upheld the Second Amendment right to keep guns in the nation's capital.
His seat remains vacant, meaning the next president could appoint Scalia's successor.
Copyright © 2016, ABC Radio. All rights reserved.