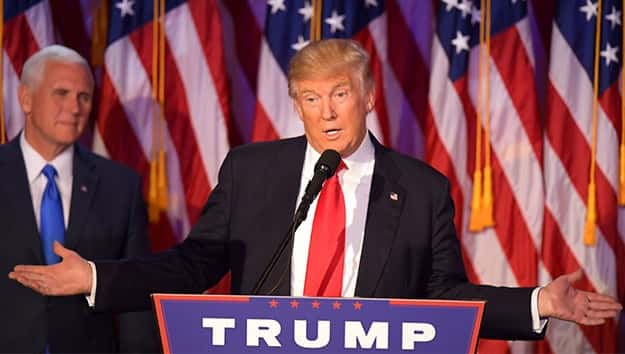 JIM WATSON/AFP/Getty Images(NEW YORK) — Donald Trump is the president-elect of the United States.
At approximately 2:45 a.m. ET, Hillary Clinton called the Republican nominee to concede the election, after a night of watching her path to victory disappear in what many pundits are already calling the biggest upset presidential election in U.S. history.
Just after 2:00 a.m., Clinton campaign chairman John Podesta told supporters at the Javits Center in New York City, where Clinton was camped, to go home, having already announced Clinton wasn't ready to concede until all votes were counted, and telling them, "we're not going to have anything more to say tonight."
However, with only a handful of states remaining to be called, and Trump leading in all of them, Clinton soon after telephoned her rival to concede, just as Pennsylvania was called for Trump, giving him 265 electoral votes to Clinton's 218 — just five shy of the 270 needed to win the White House.
In the end, it came down to white men and rural voters, who cast ballots in record numbers for Trump — even more than pollsters predicted. Those men helped Trump win the battleground states of Florida, North Carolina, Ohio and Pennsylvania, states that were believed to be within Clinton's grasp.
As Tuesday night became Wednesday morning, paths for Clinton to secure 270 electoral votes became fewer. By 2:00 a.m., only New Hampshire, Pennsylvania, Michigan, Wisconsin, Minnesota, Pennsylvania, Arizona and Alaska remained to be called, and Clinton bowed out.
At Trump HQ at the New York Hilton, Trump running mate Mike Pence took the stage at 2:45 a.m. to thank supporters and introduce Trump, who was accompanied by his family and top staff, as well as former New York Mayor Rudy Giuliani.

ABC Breaking News | Latest News Videos
The president-elect began by acknowledging Clinton's concession call and paying her a rare compliment for her service. "I congratulated her and her family on a very hard fought campaign. I mean she fought very hard," said Trump.
Calling his win "our victory," Trump declared, "Now it's time for America to bind the wounds of division. We have to get together."
Trump promised to "fix our inner cities and re-build our highways, bridges, tunnels, airports, schools hospitals — we're gonna rebuild our infrastructure." He also said he would "harness the creative talents of our people, and we will call upon the best and brightest to leverage their tremendous talent for the benefit of all. It's gonna happen."
One of the first congratulatory calls to the president-elect came from House Speaker Paul Ryan, who endorsed Trump but refused to otherwise support his party's nominee. In a statement, Ryan said the GOP is "eager to work hand-in-hand with the new administration to advance an agenda to improve the lives of the American people. This has been a great night for our party, and now we must turn our focus to bringing the country together."
Copyright © 2016, ABC Radio. All rights reserved.