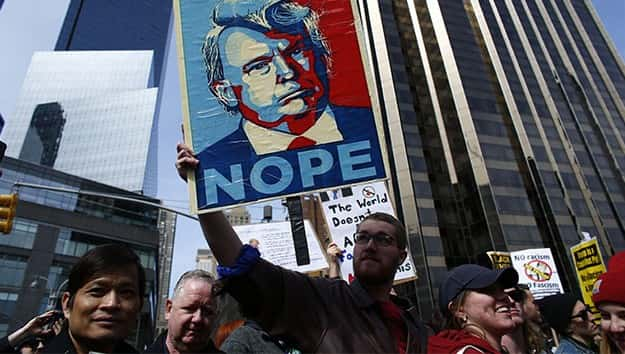 KENA BETANCUR/AFP/Getty Images(NEW YORK) — Anti-Trump protests have erupted for a third night in a row in New York City, where demonstrators marched throughout Manhattan.
Protesters gathered in Washington Square Park for a "love rally" and moved up Sixth Avenue to Union Square, ABC New York station WABC reported.
Other protests were scheduled for Friday in Boston, Vermont, Indianapolis, Pittsburgh, Orlando, Atlanta, Washington, D.C., Omaha, El Paso, Texas and Greensboro, North Carolina.
In Dallas, ABC News affiliate WFAA reporters photographed people gathering outside of a anti-Trump protest and telling the crowd to accept the results.
Small group of counter protesters holding signs and telling crowd to accept the election results #WFAA pic.twitter.com/7EYdeMx8R1

— D Fernandez (@DemondFernandez) November 12, 2016

On Wednesday night, thousands of people congregated on Fifth Avenue in front of Trump Tower, where the president-elect was meeting with aides. The protests in front of Trump's Manhattan home and nationwide were revived on Thursday night.
Copyright © 2016, ABC Radio. All rights reserved.