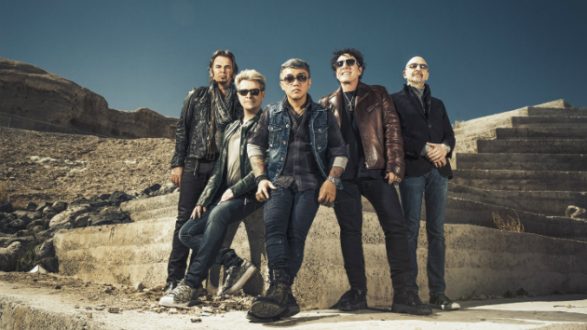 Credit: Travis ShinnWhen Journey enters the Rock & Roll Hall of Fame this Friday at the Barclays Center in Brooklyn, New York, four of the band's five current members will be honored with induction. The odd man out is frontman Arnel Pineda, who joined the band about 10 years ago famously being discovered via a YouTube video.
Keyboardist Jonathan Cain tells ABC Radio if he had his wish, Pineda also would be inducted, alongside his band mates and Journey alumni Steve Perry, Gregg Rolie and Aynsley Dunbar.
Jonathan says the Filipino-born vocalist is a worthy honoree because he's helped keep Journey relevant and because of the difficulties he's had to face in taking over the role formerly held by Perry, whom many people rate as one of rock's greatest singers.
"It was a real act of faith to jump in those shoes," Cain declares. "I mean, barely coming to America for the first time…mastering English…jumping on stage as the lead singer of Journey, going from a club singer to a rock star in two years' time. It's a pretty amazing feat."
Jonathan also points out that Pineda had to deal with the scorn of certain "haters" who had difficulty embracing a Filipino fronting Journey.
"[Some] people expected something else from us," he explains. "And we just said, 'No, we're staying with Arnel,' and we supported him…and now he's been with us for 10 years. So, I think he's honored to be up there with us, and he's done a mighty job."
Cain adds, "I think he's certainly one of the reasons why we're [in the Rock Hall]."
As Cain noted in a recent interview with the Dayton Daily News, Pineda likely will perform with Journey at Friday's induction ceremony unless the reclusive Perry decides to join his old band mates.
Copyright © 2017, ABC Radio. All rights reserved.