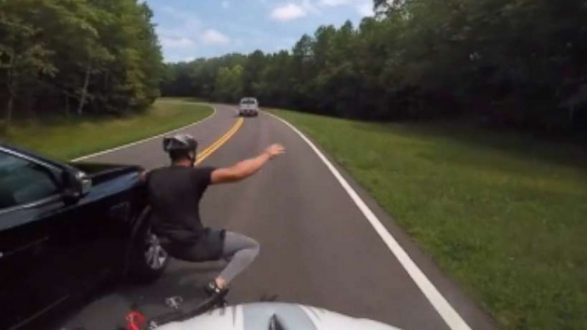 Courtesy Greg Goodman(FRANKLIN, Tenn.) — A video captured on a GoPro camera shows the moment when a car clips into a cyclist in a hit and run accident that took place along the Natchez Trace Parkway in Tennessee, sending him tumbling to the pavement.
Marshall Grant Neely III of Franklin, Tennessee, 58, was arrested and charged following the hit and run incident that occurred on Saturday, according to police, and faces several charges as a result, including reckless endangerment, leaving the scene of an accident, failure to immediately notify of an accident, and failure to render aid.
Neely was booked into the Williamson County Detention Center in Tennessee, and officials said that additional charges, including potential federal charges, may fall on him in the days ahead.
Neely was released on $11,500 bond and has a court date scheduled for July 20. Calls placed to Neely by ABC News on Sunday afternoon were not immediately returned.
The cyclist, Tyler Noe, sustained injuries that were described by officials as being "serious but non-life threatening," and is currently recovering at a local hospital.
The Natchez Trace Parkway is a designated bicycle route, according to the National Park Service (NPS).
NPS said that Noe had been biking with another man, Greg Goodman, when Neely's black Volvo clipped into him, knocking him onto the ground.
Goodman had been using his GoPro, and posted a video of the incident on social media.
Neely is an employee of the University School of Nashville and was listed as a dean of students as of Saturday night. As of Sunday morning, however, his information was no longer listed with the school. University School of Nashville release a statement on Sunday afternoon regarding Neely.
"Marshall Neely served as dean of students at University School of Nashville before transitioning to a part-time role this summer," the school said. "He also is parent of two alumni. As of [Sunday], USN has placed Mr. Neely on leave of absence while we investigate the circumstances."
Copyright © 2017, ABC Radio. All rights reserved.