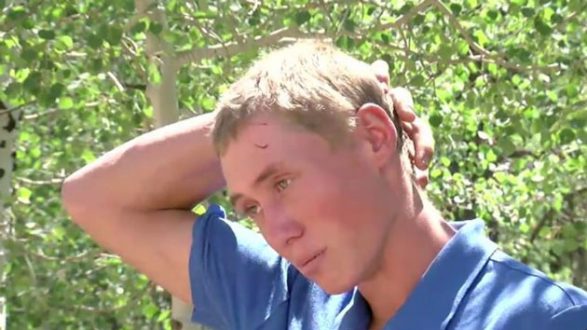 ABC News(DENVER) — A teen staffer at camp in Colorado said he was woken up on Sunday morning by the jaws of a bear.
The staffer, identified only as Dylan, told ABC affiliate KMGH-TV in Denver, he heard "crunching" sounds and that the bear tried to pull him out of his sleeping bag.
"The crunching noise, I guess, was the teeth scraping against the skull as it dug in," Dylan said, "When it was dragging me, that was the slowest part. It felt like it went on forever."
The bear eventually stopped the apparent attack, the teen said, and left on his own.
Jennifer Churchill, a spokeswoman for Colorado Parks and Wildlife, described the attack as uncommon black bear behavior, but said that the animal must now be removed.
"It is a dangerous bear, and so we can't tolerate animals like that," she told KMGH.
Dylan, who teaches wildlife survival at the Christian camp site located at Glacier View Ranch, was treated with nine staples in his head and has been released from the hospital.
Copyright © 2017, ABC Radio. All rights reserved.