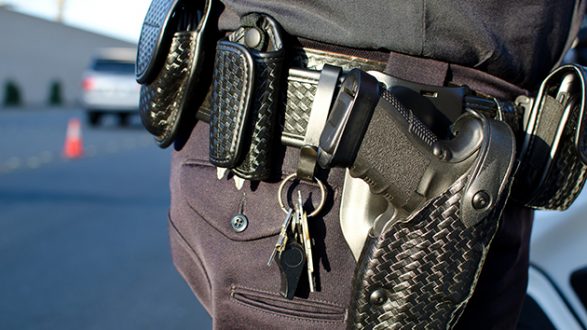 iStock/Thinkstock(CHARLOTTE, N.C.) — A police office in Charlotte, North Carolina, was charged with hitting and killing a pedestrian with his patrol vehicle while on duty, police said Wednesday.
Charlotte-Mecklenburg Police Department Officer Phillip Barker, 24, was charged with misdemeanor death by vehicle, accused of fatally striking 28-year-old James Short last week, the department said.
Short was crossing the street at around 3 a.m. Saturday morning when the on-duty officer allegedly struck him while traveling at a speed of 100 miles per hour in a 30 miles per hour zone, according to police.
Short, who had celebrated his birthday eight days prior to the accident, was crossing an intersection against a red light when he was struck, according to the department, which said the officer had his lights and sirens on at the time.
During a press conference Wednesday, CMPD Chief Kerr Putney said Barker, who recently completed the department's mandatory post-training probation period, was placed on administrative leave without pay following the incident.
He said the charges were filed "very recently" and cited excessive speed as the primary factor.
"It's not an easy decision to make. But looking through the laws the compelling factor was the speed," Putney said Wednesday. "We always talk about accountability and true to form we're going to hold ourselves accountable."
Putney called the incident "a mistake of the head, not of the heart" and noted that Barker had the right intentions.
"The officer had the right intentions, but sometimes, with youth, you don't have the experience, you don't have the knowledge, you don't have the time," Putney said.
Barker's attorney, Mike Greene, told ABC affiliate WSOC-TV that he was surprised when the department issued an arrest warrant for his client.
"I wish they would've given us a chance to tell our side before this rushed decision," Greene said, adding that the magistrate had allowed Barker to leave without posting bond.
A memorial service for Short, a computer technology student at Central Piedmont Community College in Charlotte, was held Wednesday morning.
Short's friend, Jessica Perhealth, described him as a loving man with a big heart.
"He had [the biggest] heart of anybody I ever knew," Perhealth told WSOC Wednesday. "I pray for that officer. I pray for peace."
Barker is scheduled to appear in court in August.
Copyright © 2017, ABC Radio. All rights reserved.