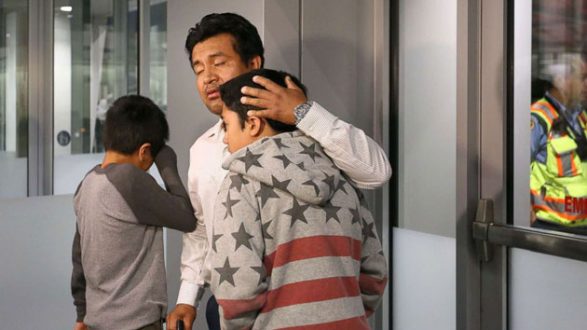 Lisa DeJong/The Plain Dealer via Barcroft(WILLARD, Ohio) — An Ohio father of four bid an emotional farewell to his family Tuesday morning before returning to Mexico.
Jesus Lara Lopez, who formerly worked at Pepperidge Farm in Willard, Ohio, was seen off by family and about a dozen supporters at Cleveland Hopkins International Airport Tuesday morning, according to the Cleveland Plain Dealer.
Photographs taken at the airport before his flight show Lopez embracing his children in a series of tearful goodbyes.
When Lopez checked in with immigration officials back in March, he was told he was being deported under "an illegal immigration crackdown," his lawyer David Leopold told the press Tuesday.
Lopez has been in the country for 16 years, and his children were born in the U.S., the Plain Dealer reported.
Lopez was first ordered to be removed in 2011 by a federal immigration judge, Khaalid Walls, the Northeast regional communications director for U.S. Immigration and Customs Enforcement (ICE), told ABC News.
In 2014, the agency granted a stay of removal in his case, Walls said, and "in a further exercise of discretion, the agency has allowed him to remain free from custody to finalize his departure plans."
"The agency will continue to closely monitor his case to ensure compliance," he said.
Walls said ICE could not confirm to ABC News whether or not Lopez had complied with their request until after he is "successfully repatriated" for operational and security reasons, but would try to provide an update on his status later today.
ABC affiliate WEWS-TV in Cleveland reported that Lopez had never been charged with a crime during his 16 years in the U.S., has paid taxes and did not receive food stamps.
Walls noted in response that the lack of a criminal record does not necessarily exempt an illegal immigrant from facing deportation.
"As Secretary [John] Kelly and Acting Director [Thomas D.] Homan have stated repeatedly, ICE prioritizes the arrest and removal of national security and public safety threats; however, no class or category of alien in the United States is exempt from arrest or removal," he told ABC News.
Leopold told WEWS-TV that his client had a valid work permit. The New York Times reported in June that Lopez "[worked] the graveyard shift packing Milano cookies and Goldfish crackers" while at Pepperidge Farm.
ABC News reached out to Pepperidge Farm for a comment about Lopez's work permit and the company said he was hired by a third-party company, Spherion, which manages packaging workers at the facility. Spherion confirmed to ABC News that Lopez did have a valid work permit and they hired him in October of 2016.
"These are the darkest times I've ever seen as an attorney. When the best and the brightest that we have to offer are taken from their homes and sent away," Leopold told reporters. "The law is so broken."
America's Voice, an immigration rights advocacy group, posted a statement on its website criticizing the deportation of Lopez from John Sandweg, former Acting Director of ICE and former Acting General Counsel of the Department of Homeland Security.
"Cases like this are an incredible waste of ICE resources that only make it harder for the agency to identify and remove dangerous criminals," Sandweg wrote. He added that he believes enforcement resources should be focused on finding criminals and public safety threats instead.
Sandweg has been a vocal critic of President Trump's broad promise of reducing illegal immigration to the U.S. a central part of his 2016 campaign.
The U.S. had already been focused on enforcing immigration rules under former President Barack Obama, who oversaw the removal of more than 2.5 million people through immigration orders, earning him the nickname "Deporter in Chief."
"The [Trump] Administration's focus on the low-hanging fruit of the enforcement system only allows the bad guys to remain at large, weakening our public safety," Sandweg added.
Copyright © 2017, ABC Radio. All rights reserved.