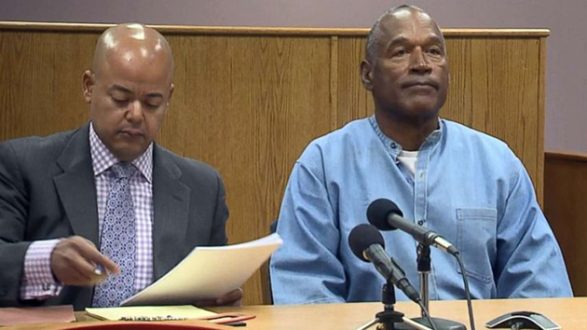 ABC News(CARSON CITY, Nev.) — O.J. Simpson, who was granted parole Thursday after nearlynine years in prison for a Las Vegas robbery, will soon be a free man.
The imprisoned former NFL player could be released from Lovelock Correctional Facility in Nevada as early as Oct. 1.
Here's what we know about what his life may be like going forward.
The rest of his time in prison should continue as usual, an official said Thursday, and officials will work on developing his release plan.
Simpson, 70, is requesting to live in Florida, where he has family as his support system, officials said today.
Simpson quipped to the parole board Thursday, "Stay in Nevada? I don't think you guys want me here."
Simpson told the commissioners that he's missed 36 birthdays with his children while behind bars and missed their college graduations, and if he was to be paroled, he said he wants to spend as much time as he can with his family.
Simpson's eldest daughter, Arnelle Simpson, spoke at the parole hearing, appearing emotional and telling the board the family wants him home so they can move forward.
Officials said Thursday if Florida denies Simpson's request, officials in Nevada would work with him to develop a different suitable plan.
Simpson was sentenced to prison following an arrest in 2007 during a botched robbery in Las Vegas, when he led a group of men into a hotel and casino to steal sports memorabilia at gunpoint. He contended the memorabilia and other personal items belonged to him.
Simpson delivered a rambling account of the case to the parole board, maintaining that he didn't intend to steal but "wish this would have never happened."
More than 20 years ago, Simpson went on trial for the killing of his ex-wife, Nicole Brown Simpson, and her friend, Ron Goldman. The two were found on June 12, 1994, stabbed to death at her Los Angeles home. On Oct. 3, 1995, at the end of a televised trial that captivated the nation, Simpson was acquitted of all criminal charges. He has always maintained his innocence.
Hours before the parole hearing, Ron Goldman's father, Fred Goldman, told ABC News Chief Anchor George Stephanopoulos on Good Morning America, "What's troubling to me is not only him, but the whole system gives second chances to violent felons or, for that matter, anyone in jail. … Ron doesn't get a second chance.
"Ron never gets to spend his life doing what he wanted to do," Fred Goldman continued. "We'll never get to share his life, and the killer will walk free and get to do whatever he wants."
Fred Goldman said the parole board should take into account that Simpson was found liable for the killings in the 1997 civil trial.
"I think his whole history of violence, ignoring the law, no respect for the law, no remorse for virtually anything he's ever done is an indication of who he is as a person," Fred Goldman said. "I don't think there's any reason to think that he's going to be a decent human being in society. I think he's proved otherwise."
Added Ron Goldman's sister, Kim Goldman, "We lived our life with [Simpson] walking the streets and sharing the same roads that we did."
"With him being locked up in Lovelock, it's been a chance for us to kind of reclaim some control over our life and have some glimpse of sanity," she said. "I'm preparing myself for that to be changing come October."
Copyright © 2017, ABC Radio. All rights reserved.