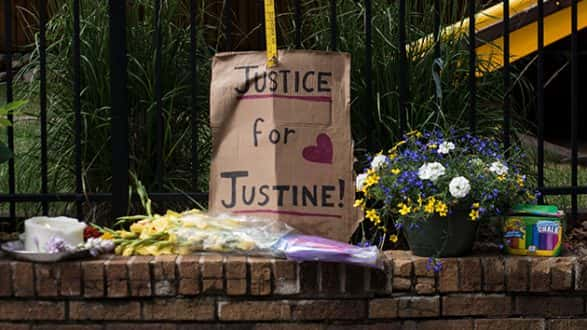 STEPHEN MATUREN/AFP/Getty Images(MINNEAPOLIS) — The attorney representing both the fiancé and family of the Australian bride-to-be who was fatally shot by a Minneapolis Police Department officer on Saturday says "the family wants justice in its largest sense."
Justine Ruszczyk, 40, who went by her fiancé's last name, Damond, was killed by a police officer on July 15 after she called 911 to report what she believed was a sexual assault occurring near her home.
"I think Justine is the last person you'd expect to be killed by police," Robert Bennett, the attorney representing Justine Damond's family and fiancé, Don Damond, told ABC News.
"Of the cases that I've been involved in over the years she doesn't fit any of the patterns," Bennett, who represented the family of Philando Castile, a black man who was fatally shot by Minnesota police in July 2016, said. "Her life's intersection with the police is totally bizarre."
Authorities said officers Matthew Harrity and Mohammed Noor responded to Justine Damond's 911 call, but never found a suspect. They were startled by a loud noise and then Justine Damond approached the driver's side of the car and Noor, who was on the passenger side, fired his gun through the open driver's side window, according to the Minnesota Department of Public Safety.
Harrity's attorney, Fred Bruno, told the Minneapolis Star Tribune that it was "certainly reasonable" for the police officers to assume they could be the target of an ambush.
Bennett said that the idea that Justine Damond could have been thought of as a threat is "patently, utterly, ridiculous."
"If that's the excuse they want to use to shoot people, I guess they can use any excuse they want, we're all in danger," the attorney said.
Bennett also called it "inexplicable" that there was no video or audio from the officer's body cameras, a sentiment echoed by Minneapolis Mayor Betsy Hodges, who told ABC News earlier this week that a "key question" for investigators was why the officer's body cameras were not turned on when Justine Damond was shot and killed.
Minneapolis Police Chief Janeé Harteau said in a news conference Thursday that Justine Damond "didn't have to die." She added that Mohamed Noor, the officer who shot Justine Damond, has not made any statement to investigators.
Bennett said the "strangest part of the case," was that "someone so good, so peaceful, so pacifistic, gets shot by a police officer in her pajamas, in her ally, in a good neighborhood in south Minneapolis."
Copyright © 2017, ABC Radio. All rights reserved.