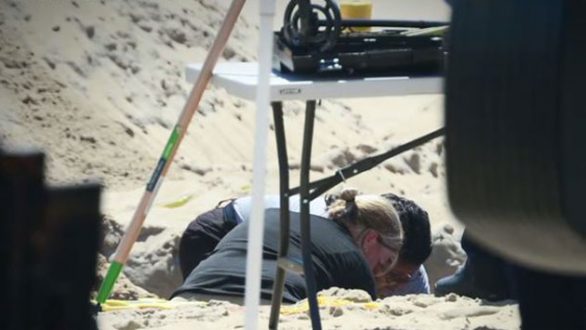 ABCNews.com(OCEAN CITY, Md.) — The mysterious death of a Texas woman whose body was found this week buried on a Maryland beach with just one arm poking through the sand has been ruled an accident, officials said.
A beachgoer in Ocean City discovered the woman's body in a hole mostly covered by sand Monday morning and alerted police. The deceased was later identified as 30-year-old Ashley O'Connor of Plano, Texas, who was on vacation with her family at the time of her death, according to Ocean City Police Department spokesperson Lindsay Richard.
O'Connor's family has been notified, Richard said.
Police announced Wednesday that Maryland's Office of the Chief Medical Examiner has ruled the death to be accidental caused by asphyxia due to suffocation.
A preliminary investigation revealed that O'Connor walked onto the beach alone at approximately 2 a.m. ET Monday and was later found in a hole covered by sand. Investigators are still trying to determine if O'Connor fell into the hole or climbed in on her own accord, police said.
A portion of the Ocean City beach was closed Monday as authorities worked to recover the body from the sand. The beach was reopened to the public that night at approximately 5 p.m. ET.
The investigation is ongoing. Anyone with information is asked to contact the Ocean City Police Department Major Crimes Unit at 410-723-6604.
Copyright © 2017, ABC Radio. All rights reserved.