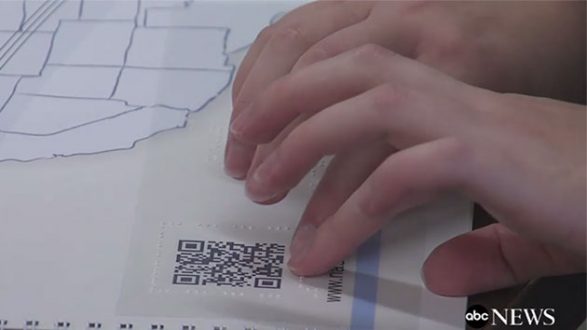 iStock/Thinkstock(NEW YORK) — When the total solar eclipse becomes visible in the U.S. on Aug. 21, Mariah Williams, who has been blind since birth, will also be able to experience the rare astronomical event.
Williams, 22, a recent graduate of College of Charleston in South Carolina, was one of the very first people to use Getting a Feel for Eclipses, a tactile guide that uses different textures to show the eclipse's path and geometry.
The book has been a labor of love for nearly two years for Williams' former teacher, Cassandra Runyon, an associate professor of geology at College of Charleston, and David Hurd, a professor of geosciences and planetarium director at Edinboro University.
Runyon said they realized there was nothing available for the visually impaired audience.
"So we got together one weekend and brainstormed and came up with the outline," said Runyon, who has partnered with Hurd on other space-related Braille books. "My father was an artist, and he always challenged me to look at things from different perspectives and use all of our senses."
The two-page book features three diagrams showing the alignment of the sun, moon and earth; the different stages of the eclipse; and the eclipse's path of totality across 14 states from Oregon to South Carolina.
"Spanish moss is the sun, really rough cardboard is the moon, and the Earth is smooth cardboard with sand to create the continents," Runyon told ABC News. "We used materials we had on hand, like the moss which happened to be hanging outside the office window."
Referring to her former student, Runyon said, "For Mariah, her fingertips are her eyes," so this tactical book "helps her to see the concepts being discussed."
Each book is printed and bound by hand with the help of students and colleagues. More than 5,000 copies have already been distributed for free to schools, libraries and museums by NASA, which is sponsoring the book's publication.
"At NASA, our mission is to not only explore, discover and innovate — but to inspire," Jim Green, director of the Planetary Science Division at NASA headquarters in Washington, D.C., told ABC News. "Our partnership with Professor Runyon has a long and productive history, and this is the latest example of how we continue to connect with everyone."
Williams said the book has showed her what to expect with the Aug. 21 eclipse.
"I sort of knew the eclipse was coming up, but my only real thought was, 'Okay, the sun goes dark for a little while,' " said Williams, who plans to experience the eclipse in Oregon. She said the book "has made a huge difference from just knowing that something exists to really understanding it."
She and others who are visually impaired will also be able to feel and possibly hear some effects of the total solar eclipse, when the moon moves between the sun and Earth.
"There's usually a big temperature drop, so I'll be able to feel that," Williams said. "I think the coolest part will actually be able to hear whether any of the animals react."
Williams said she has heard that sometimes crickets chirp in the dark and "and the roosters crow when the sun appears."
Copyright © 2017, ABC Radio. All rights reserved.