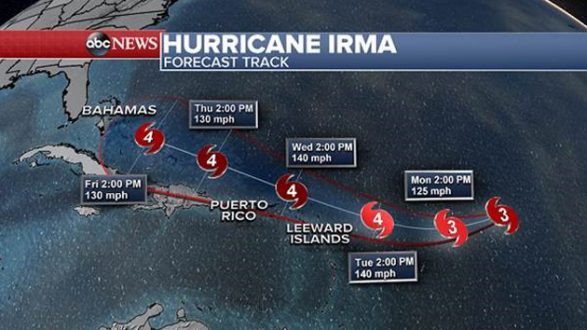 ABC News(NEW YORK) — As parts of the U.S. continue to recover from the effects of Harvey, Hurricane Irma is gradual strengthening as it moves west.
Irma remains a Category 3 hurricane with sustained winds of 115 miles per hour. As of Sunday night, it was located 760 miles east of the Leeward Islands and moving west at 14 miles per hour.
The National Hurricane Center has issued hurricane watches for portions of the Leeward Islands in the northeast Caribbean, including Antigua, Barbuda, and St. Martin. Rain and win from Irma is expected to begin to move into these areas by late Tuesday.
What impact will Irma have on the U.S.? Hurricane specialist John Cangialosi at the National Hurricane Center in Miami told ABC News it was too soon to tell.
"Certainly still too soon to say what's going to happen for the U.S.," he said. "The timeline would be next weekend, for its close approach, perhaps, to the state of Florida."
Copyright © 2017, ABC Radio. All rights reserved.