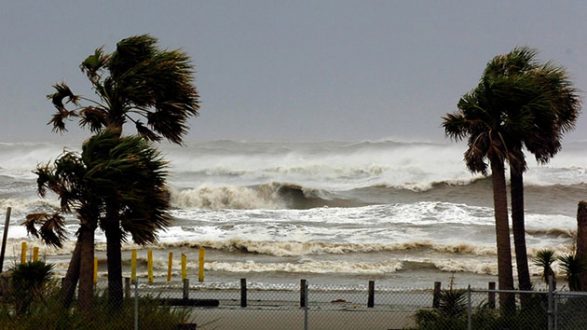 stefanofiorentino/iStock/Thinkstock(SAN JUAN, Puerto Rico) — Hurricane Irma lashed the Caribbean on Wednesday, causing at least three deaths, while farther north in the U.S., Florida, Georgia and South Carolina are facing states of emergency as residents brace for the monster storm.
This afternoon, the Category 5 storm dubbed "extremely dangerous" by the National Hurricane Center (NHC), was battering the Caribbean, including the U.S. Virgin Islands. The storm has sustained winds of 185 mph and even higher gusts.
In St. Martin and St. Barthelemy, at least two people died and at least two others were seriously wounded, officials said.
At least one person died in Barbuda, where there is widespread damage, said Midcie Francis, a spokeswoman for Antigua & Barbuda's National Office of Disaster Services.
Irma, which is approximately 450 miles wide, has had sustained winds of at least 180 mph for a longer period of time than any other Atlantic storm on record.
At 3:30 p.m. ET Irma was 80 miles east of San Juan, Puerto Rico. The hurricane is forecast to move north of U.S. territory on Wednesday evening, unleashing strong winds and heavy rain but not directly hitting the islands.
The forecast path takes Irma through the Bahamas Friday into Saturday morning and the storm is expected to curve north toward Florida by late Saturday afternoon.
On Sunday morning, Irma is expected to approach just south of Miami as a Category 4 hurricane with winds of 145 mph. Forecasts show Irma weakening to a Category 3 hurricane near Daytona Beach on Monday morning.
The storm is expected to then move up the Florida coast as a Category 3 hurricane with winds of 125 mph.
Georgia and South Carolina are in the northern edge of the forecast cone as well.
The current spaghetti models show Irma taking an eastern shift, which could mean a possible landfall on the coasts of Georgia and South Carolina.
Some spaghetti models show the storm moving even further away from Florida's east coast.
Today, as the rain pummels Puerto Rico, some tourists and residents are stranded.
Rows of shops are boarded up today in one San Juan neighborhood as heavy wind and rain batters the area. The streets are deserted, with just a few scattered cars on the road.
Puerto Rico Governor Ricardo Rossello today called Irma a hurricane to a level at which Puerto Rico has never seen, as he told the public, "There is no reason to be outside."
Officials said over 1,000 people are in shelters and 20 percent of energy subscribers in Puerto Rico — 300,000 people — have lost power.
Two visitors to Puerto Rico who are holed up on the sixth floor of a villa told ABC News that the howling winds sound like a freight train going through a building. They said the rains and waves are so powerful that water is coming through windows and flooding their room.
A shopkeeper in Old San Juan told ABC News on Tuesday that his shelves were mostly full, and to him, it didn't seem as if all locals appeared to be taking the storm very seriously.
Preparations are already underway in Florida, which could face "direct impacts," according to the NHC, though it's too soon to tell for sure.
Florida Gov. Rick Scott — who declared a statewide state of emergency on Monday — said this afternoon about 25,000 people have already evacuated.
Over 200,000 Floridians have been ordered to evacuate: Mandatory evacuations have already been ordered for Monroe County, which includes the Florida Keys, and coastal parts of Broward County and Miami-Dade County.
Many residents of the Keys — which the governor said is expected to be affected on Sunday — didn't wait until today's mandatory evacuation and instead evacuated Tuesday.
The Keys' famous tourist street, Duval Street, was nearly empty today.
One Keys apartment building owner told ABC News she thinks the devastation left behind in the Houston area by Hurricane Harvey is on people's minds. She said nearly all of her tenants have evacuated, and she's encouraging them to do so, explaining that "this storm is different."
Some Keys residents told ABC News they are preparing to stay, but they aren't ruling out evacuating if necessary. They say they are monitoring the forecast and will make a decision Thursday or Friday.
On "Good Morning America", Scott warned that Irma could be worse than Hurricane Andrew, which devastated the Sunshine State 25 years ago.
Scott urged people to be prepared but to also take only what they will need.
"Three days of water per person, three days of food," he said. "Take enough but take only what you need, don't take more."
ABC News was at a Miami megastore where people were lined up for hours hoping to get water. Even after store officials came outside to say there was no more water, the line continued to grow.
Another nearby store opened at 6 a.m. today, and by 6:08 a.m., the water was sold out.
Long lines are forming all over Florida for gas, and in Miami and West Palm Beach, more than 25 percent of gas stations are out, according to GasBuddy.
The Florida governor's office said the state is moving as much fuel through the system as fast as possible and is prepared to survey and coordinate fuel supply and resupply along evacuation routes. The state said emergency fuel contractors have secured 1.5 million gallons of fuel for initial delivery and confirmed that additional fuel supply is on standby for future deliveries.
In Georgia, states of emergency have been declared for six coastal counties, as Gov. Nathan Deal in a statement urged "Georgians in the affected counties to remain vigilant and be prepared."
South Carolina Gov. Henry McMaster has also declared a state of emergency for his state, saying today, "South Carolina is fortunate to have time to allow us to prepare for Hurricane Irma's potential landfall and it is important that families and individuals in vulnerable areas use that time to review safety plans in case they are needed."
Meanwhile, Jose, another storm which is following behind Irma on a similar path, was upgraded today from a tropical storm to a hurricane. With 75 mph winds, the Category 1 story could be near major hurricane strength on Friday. No watches or warnings are currently in effect, though residents of the Leeward Islands should monitor the storm.
Copyright © 2017, ABC Radio. All rights reserved.