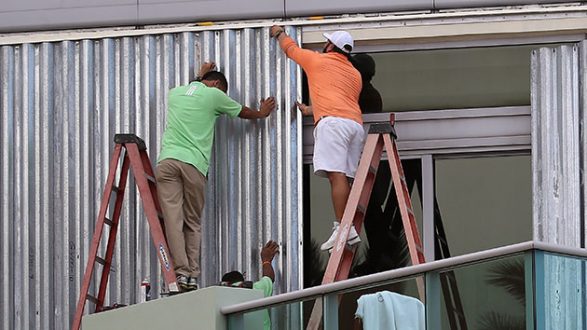 Mark Wilson/Getty Images(MIAMI) — Up to 400,000 people in Miami-Dade could be ordered to evacuate Thursday as Hurricane Irma barrels toward Florida, the mayor told ABC News.
"This is a hurricane that I've never seen before, so we are preparing here," Miami-Dade County Mayor Carlos Giménez said Thursday in an interview with ABC News' George Stephanopoulos on Good Morning America.
"We are also praying that it doesn't come our way."
Hurricane Irma, a Category 5 storm, had maximum sustained winds of 180 mph as of 5 a.m. Thursday morning as it moved away from the northern coast of Puerto Rico and over the Dominican Republic and Haiti. The wind speeds were down slightly from the day before but only by 5 mph, according to the National Weather Service.
At the time, Irma was located about 95 miles north of Punta Cana in the Dominican Republic and moving west-northwest at 17 mph. The storm is expected to graze the northern Dominican Republic and Haiti with rain and gusty winds. Storm surge on the northern coast of the Dominican Republic could be 3 to 5 feet, according to the National Weather Service.
The monster storm was responsible for at least 10 deaths after it battered the Caribbean Wednesday.
Irma was still projected to make landfall in South Florida, near Miami, Sunday morning as a Category 4 storm. Maximum sustained winds could be nearly 150 mph with possibly serious implications because of storm surge.
Mandatory evacuations have been issued in two Florida counties: Monroe County and Miami-Dade County's Zones A and B. Monroe covers the Florida Keys, while Miami-Dade's Zones A and B include Miami Beach and Key Biscayne.
In Miami-Dade County, the southeastern-most county on the U.S. mainland with more than 2.7 million residents, about 150,000 people so far have been ordered to evacuate. But the county mayor said that number could surge on Thursday depending on the information officials receive from the National Hurricane Center, which is tracking the Category 5 storm.
Miami-Dade County has also equipped several gas stations and supermarkets with generators so the retailers will be able to operate if the storm causes power outages. There's "plenty" of supplies, and the county's gas stations will be replenished on Thursday, the mayor said.
Gimenez, a retired firefighter, added that Floridians have "learned a lot of lessons of the past" since Hurricane Andrew, a Category 5 storm that devastated the Bahamas and Florida in August 1992.
"We are well-prepared here in Miami-Dade County," he told Good Morning America.
Copyright © 2017, ABC Radio. All rights reserved.