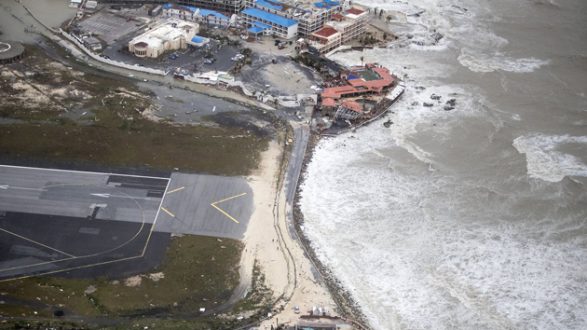 Royal Netherlands Navy (MIAMI) — Florida, Georgia, South Carolina and North Carolina are bracing for the impact of Hurricane Irma — the most powerful Atlantic storm in a decade — which is expected to hit Florida Sunday morning.
Irma, now downgraded to a Category 4 storm, has devastated several islands in the Caribbean.
Here is a breakdown of the storm by the numbers:
At least 20 deaths
As Irma tore through the Caribbean islands, it left a terrifying trail of devastation behind it.
At least 20 people have died in the Caribbean, including at least three in the U.S. territory of Puerto Rico.
In Barbuda, over 90 percent of buildings and vehicles were destroyed.
Antigua and Barbuda Prime Minister Gaston Browne told national broadcaster ABS that the island is "barely inhabitable" after Irma.
Browne told ABC News in a phone interview, "When you have an unprecedented storm like this that comes with such significant wind force this is like having a bomb literally thrown on a city. … It is really the sheer magnitude of the winds that destroyed these properties."
Shelters across the South
The American Red Cross said it is expected to shelter up to 120,000 evacuees across Florida, Georgia, South Carolina and North Carolina.
Florida braces for the storm
The first state to get hit by Irma will be Florida, where roughly 1.3 million residents are under orders to evacuate. The storm is forecast to hit southern Florida early Sunday morning.
"If you're in an evacuation zone, you've got to get out. You can't wait," Florida Gov. Rick Scott said in an interview on Friday with ABC News' "Good Morning America" co-anchor Robin Roberts.
"This thing's coming," he warned. "It looks like it's going to go right through the middle of our state."
But not everyone is evacuating. Miami resident Rafael Cabanzon, 20, told ABC News, "We are going to stay for sure."
We've experienced so many hurricanes, I think we can wait it out," Cabanzon said.
"We have a garage, so we are to buck the bottom of the garage and a couple of doors to make sure sand doesn't come in," he said. "We're not too worried about it. We are taking precautions, but we got it."
FEMA response
8,600 Federal Emergency Management Agency (FEMA) personnel have been deployed to respond to both Irma and Hurricane Harvey, which devastated the Houston area just last week.
FEMA administrator Brock Long said at a news conference this morning that Irma is "a threat that is going to devastate the United States" and he urged people to listen to local officials and heed their warnings.
"We're gonna have a couple rough days," Long said, adding that power is expected to be out in Florida for days.
Planes, trains and ships
A least 4,600 flights have been cancelled at airports in the storm's path.
Miami alone has cancelled 545 flights for Friday and 679 on Saturday.
Fort Lauderdale–Hollywood International Airport is closing Saturday and Sunday, while Orlando International Airport is halting commercial flights at 5 p.m. Saturday.
On Friday, residents and vacationers in Miami are showing up to the airport in droves without reservations. Airline and airport officials tell ABC News that American, Delta and United flights out of Miami on Friday are sold out. Passengers who show up at the airport are being put on stand-by.
Airlines are continuing to try to add more available seats out of Miami before the last flights leave tonight. Airlines so far have added more than 10,895 seats since Wednesday out of Miami and Fort Lauderdale.
At least 13 cruises, including Carnival, Royal Caribbean, Disney and Norwegian, have been cancelled.
At least 22 cruises are operating on altered itineraries: Carnival Cruises has altered the itinerary for 13 cruises in order to "maintain a safe distance" from Hurricane Irma, a spokesperson said, and Royal Caribbean has diverted three ships to keep them "out of harm's way."
Royal Caribbean Cruises is also offering up one of its ships, Enchantment of the Seas, to employees and their families so they can evacuate Florida. It will "sail out to blue skies and calm seas" and plans to return once the port reopens.
Copyright © 2017, ABC Radio. All rights reserved.