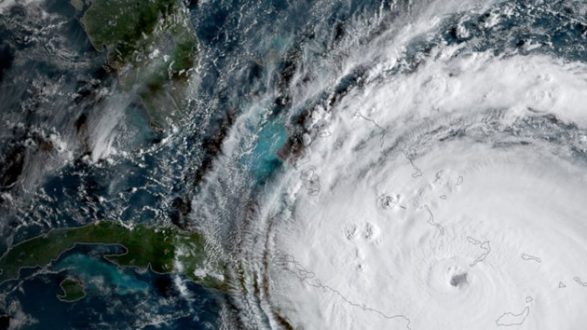 NOAA(MIAMI) — A man died Thursday after falling off a ladder while installing hurricane shutters in Broward County, Florida.
The 57-year-old man, who has not been identified, had been hired to install the shutters ahead of Hurricane Irma's approach, according to a Davie police spokesman. He fell off a 15-foot ladder and hit his head on a pool deck, the spokesman said.
The man was transported to a nearby hospital, where he was later pronounced dead.
South Florida is bracing for a major storm surge and powerful winds as Irma, a Category 4 storm, makes it way toward the U.S. mainland.
Irma was downgraded from a Category 5 to a Category 4 storm early Friday morning. As of 2 p.m. Eastern Time, the storm was moving 14 mph and located 380 miles southeast of Miami.
The National Hurricane Center cautioned that Irma is still "extremely dangerous," with maximum sustained winds of 155 mph, which are strong enough to uproot trees, bring down power poles and rip off the roofs and some exterior walls of well-built frame homes.
Irma is expected to make landfall near Miami as a strong Category 4 hurricane with winds near 140 to 145 mph sometime between 5 a.m. and 9 a.m. ET on Sunday.
Copyright © 2017, ABC Radio. All rights reserved.