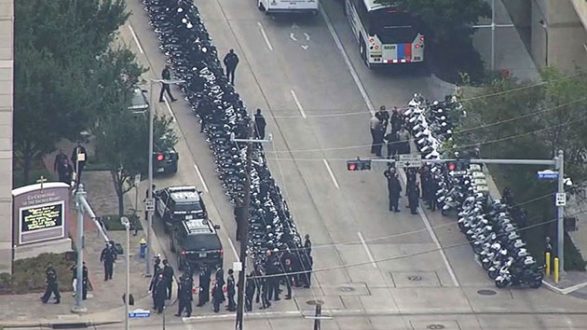 KTRK-TV(HOUSTON) — A Houston police sergeant who died trying to get to work during Hurricane Harvey was remembered Friday morning at a funeral service.
Sgt. Steve Perez, a 34-year veteran, was "bravely serving the city of Houston in the face of this unprecedented weather-related disaster when his vehicle entered high water," the Houston Police Department said.
Perez, a father and husband, died two days shy of his 61st birthday, according to Houston Police Chief Art Acevedo.
HPD Sgt Steve Perez's casket arrives at the Co-Cathedral of the Sacred Heart #RIP #Hounews pic.twitter.com/x1tqBd8oRk

— Houston Police (@houstonpolice) September 13, 2017
HPD Cadet Class arriving for funeral of Sgt Steve Perez pic.twitter.com/DP5e50OLiU

— Houston Police (@houstonpolice) September 13, 2017

Acevedo was emotional last month as he recounted Perez's death.
On Aug. 27, as Harvey flooded the Houston area, Perez left his home at 4 a.m. in heavy rain to try to get to work, Acevedo said. Perez later called in to say he had been driving for over two hours to get to his duty station. But he could not find a path, so he followed protocol and started heading to a secondary station, Acevedo said.
On Aug. 28, Perez wasn't present at roll call and no one could reach him, prompting an extensive search, Acevedo said. The next day, a dive team found his body; Perez had driven from an underpass into the water and died, Acevedo said.
According to Houston Mayor Sylvester Turner, when Perez's wife asked him to reconsider going into work, he told her, "I've got work to do."
"I've got work to do," Perez told wife, who urged him to reconsider reporting for duty.

— Sylvester Turner (@SylvesterTurner) August 29, 2017

"The death of Sergeant Perez reminds us of the dangers that police officers willingly face every day in order to serve this great city," the police department said. "We will go through this extremely difficult and trying time with heavy hearts, sadly reminded of the ultimate sacrifice one of our own paid."

Perez is survived by his wife, son and daughter.
"Words cannot adequately express the sense of loss the Perez family and their extended Houston Police family are experiencing," the police department said. "Our hearts and prayers go out to Sergeant's Perez's family, his friends, neighbors and colleagues."
Copyright © 2017, ABC Radio. All rights reserved.