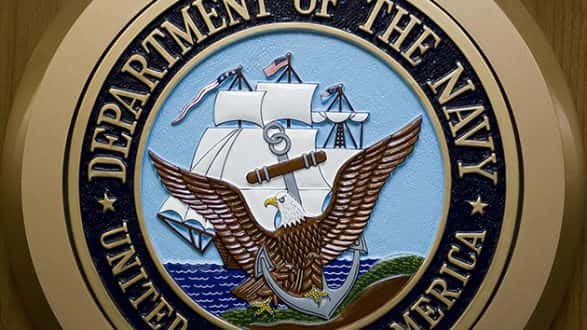 PAUL J. RICHARDS/AFP/Getty Images(NEW YORK) — The Navy has identified the two corpsmen who were removed from their posts after they allegedly posted a video and photos of a newborn to Snapchat that drew outrage on social media.
The video, filmed at the Naval Hospital in Jacksonville, Florida, shows a female corpsman holding the infant by the armpits while rocking the baby to rap music playing in the background, while one of the photos shows another female corpsman flipping the middle finger at the newborn with the caption "how I currently feel about these mini Satans."
The two women allegedly involved in the incident have been identified as Allyson Jeanette Thompson and Joan Hunter Barrett Fender. Neither woman could immediately be reached by ABC News for comment.
"The individuals have been removed from patient care meaning they will not be providing direct patient care," said Capt. Brenda Malone, a spokesperson for the Navy's Bureau of Medicine.
Thompson of Alabama enlisted in the Navy three years ago in August 2014, according to a biography provided by the Navy. She served a tour of duty on the U.S.S. Mason, a Navy destroyer, before attending Hospital Corpsman School and reporting to the Naval Hospital in Jacksonville in February. Fender of Pennsylvania has served less than two years in the Navy, according to a biography provided by the Navy. She attended Hospital Corpsman School before starting at the Naval Hospital about two months ago.
A Navy official said the posting of the photos was being investigated by the Naval Criminal Investigative Service (NCIS) and that only one newborn had been involved in the photos posted online by the corpsmen.
The images are no longer on Snapchat, but screengrabs have been shared on Facebook by concerned users.
The Navy's surgeon general has ordered a stand down for all Navy medical personnel over the next 48 hours to reaffirm service commitments to patients and review social media policies after photos emerged on social media.
"I have directed immediate mandatory all-hands stand downs within 48 hours at all Navy Medicine commands to review our oaths, our pledges, our reasons for serving, as well as Navy Medicine's policy regarding use of personally owned phones and other recording devices," Vice Adm. C. Forrest Faison III, the surgeon general of the Navy, in a blog post to Navy medical personnel.
The admiral also prohibited the use of personal cellphones by medical care personnel in patient care areas until further notice.
Faison also directed commanding officers at Naval medical facilities to contact mothers and expectant mothers to reassure them, inform them of the actions being taken and to address any of their concerns.
"Unprofessional and inappropriate social media behavior is inconsistent with both our core values of honor, courage and commitment as well as our medical ethics, violating the oaths we took for our profession and office," said Faison.
"In an age where information can be shared instantly, what we say and post online must reflect the highest standards of character and conduct, in both our personal and professional lives," said Faison. "As health care professionals, we are entrusted with the lives and well-being of all those who have volunteered to defend our freedom, including their families. We owe them the best care and compassion our nation can offer.
"We also owe them our unqualified respect," he added. "Any behavior that falls short of this expectation will be dealt with appropriately."
Faison also ordered commanders to make sure "no additional patient photos exist on social media and to take immediate action to remove such content."
A Navy official said stand downs for Navy medical personnel will take place in a staggered fashion over the next two days to ensure there is no impact to providing patient care.
"We are also contacting patients to address any questions or concerns they may have," said Malone.
Copyright © 2017, ABC Radio. All rights reserved.