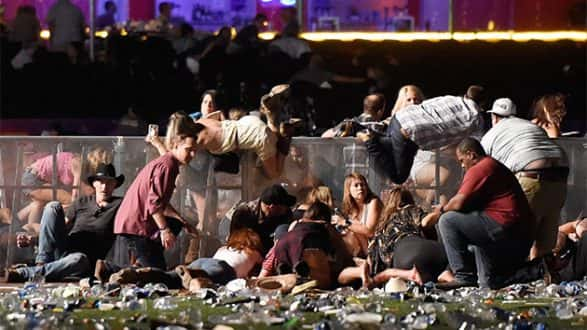 David Becker/Getty Images(LAS VEGAS) — The investigation into what drove Stephen Paddock to open fire on a music festival in Las Vegas last Sunday is crawling into its fifth day with ever-mounting questions and few answers.
Paddock, the lone suspect according to Las Vegas police, killed himself in the hotel suite he had rented on the 32nd floor of the Mandalay Bay Resort and Casino as police closed in on his location. And along with Paddock went any clear answer for why he opened fire on the festival and killed 58 people and wounded 489 others.
Clark County Sheriff Joseph Lombardo, the public face of the investigation, has had few answers for why Paddock committed the crime. Authorities did not hold a press conference on Thursday, the first day since Sunday there was none.
Sunday's attack was in stark contrast to recent mass shootings, which have had motives surface soon afterward. Omar Mateen, who killed 49 people at Pulse nightclub in Orlando, Florida in June 2016, called police to confess to being an ISIS sympathizer while still in the club. When Nidal Hassan shot and killed 13 people at Fort Hood in 2009 authorities were already aware he had reached out to radical clerics in the Middle East. Dylann Roof walked into a church in Columbia, South Carolina in December 2016 and killed nine people only after telling friends he planned to kill people and posting a manifesto espousing white supremacy.
The investigation into Paddock has had no such crystalizing context.
Lombardo has said investigators are looking at a computer and multiple electronic devices found in the suite at the Mandalay Bay hotel. Authorities have also removed evidence from homes Paddock owned in Mesquite and Reno, Nevada. There have not been any revelations so far.
Authorities also found a note in Paddock's hotel room but said it was not a suicide note. The contents are unknown.
Police say there is no question the attack was "meticulously planned," as Lombardo described it. The shooter brought 10 luggages worth of weapons, 23 guns, many of them rifles, and thousands of rounds of ammunition, up to his hotel room.
Experts say the weapons found in his hotel suite were high-end and high-powered, the kind used by U.S. special forces and commandoes. Officials tell ABC News some of the ammo was bought under a name not his, leading to speculation of a possible accomplice
Lombardo said on Wednesday Paddock may have had help and that he planned to escape the scene, but provided no further details on either piece of information.
Authorities' best hopes seemed to be pinned on the girlfriend of Paddock, Marilou Danley, who was in the Philippines at the time of the shooting. Danley returned to the U.S. on Tuesday night and began speaking with the FBI on Wednesday. Danley, however, has told authorities she had no idea Paddock was planning an attack and her lawyer read a statement saying she knew him as "a kind, caring man."
Even a few months before the shooting, however, Paddock and Danley's relationship at least appeared to be on solid ground.
Danley accompanied Paddock to a Reno car dealership in August, where Paddock purchased a vehicle with a check for $14,411. When Danley went on a test drive, she told a saleswoman that Paddock had saved her from a troubled marriage.
"She said she had a bad relationship prior to him," the saleswoman told ABC News. "And how he had turned her life around. Really helped her out."
Paddock bought Danley a plane ticket to her native Philippines and wired her $100,000, according to authorities. However, she's said she thought the dual purchases were a context to breaking up with her.
Danley continues to cooperate fully with authorities.
Less than 24 hours after the attack, Eric Paddock, Stephen's brother, told reporters outside his home that his brother had no connection to political or religious groups, and no obvious motives.
Officials say Las Vegas prostitutes have provided perhaps the most telling profile of Paddock, known by them as a regular customer, as a cheap man who didn't display emotion,and about the only clues into a reason for the attack center around Paddock's mental state. A person briefed on findings from the investigation told ABC News' Brian Ross that Paddock's mental state was deteriorating in the months prior to the attack, including weight gain, an increasingly slovenly appearance and an obsession with Danley's ex-husband.
The biggest revelations on Thursday into the investigation spoke more to the planning of Paddock than motive. Officials briefed on the investigation told ABC News that Paddock had booked hotel rooms in Chicago in early August coinciding with Lollapalooza, the massive annual music festival held in Grant Park that attracted hundreds of thousands of people, including one of President Barack Obama's daughters.
A source with the Chicago Police Department confirmed to ABC News that Paddock had reservations at The Blackstone Hotel, across from the park, though the hotel said no one with the name Paddock had stayed in their hotel in August.
A source also indicated to ABC News that Paddock had searched for hotels around Fenway Park in Boston, but there was no indication he had traveled there.
Copyright © 2017, ABC Radio. All rights reserved.