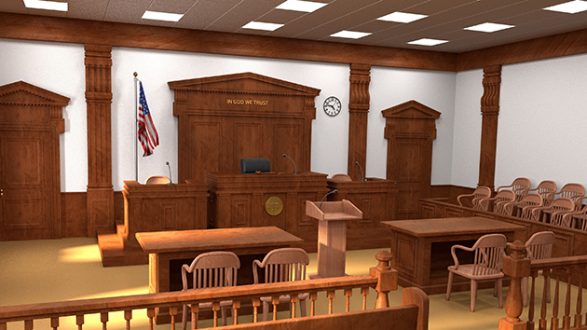 3drenderings/iStock/Thinkstock(KANSAS CITY, Mo.) — A man is facing murder charges in connection to the deaths of two women over the past decade.
The suspect, Kylr Yust, allegedly told acquaintances he "just snapped" when killing 17-year-old Kara Kopetsky, his ex-girlfriend, in 2007, according to documents filed Thursday. Days before Kopetsky vanished in Kansas City in May of that year, she filed a protective order against Yust, according to police reports. In her protective order, Kopetsky wrote Yust had kidnapped, restrained and choked her. She wrote she was "unsure of what [Yust] will do next because the abuse has gotten worse over time." But for years, her remains went unfound and an arrest eluded police.
Then, this April, Kopetsky's remains — and those of another woman — were found in a rural area south of Kansas City. The second remains belonged to Jessica Runions, 21, another local young woman, who disappeared last year.
Runions was reported missing by her mother and boyfriend on the night of Sept. 9, 2016. Early in the morning on Sept. 10, Runions' car was found burned in a desolate, wooded area, police said. But Runions was nowhere to be found.
Runions' family says friends told them Runions was last seen giving Yust — her boyfriend's longtime friend — a ride home from a party.
After police found the vehicle, Yust was arrested, accused of setting Runions' car on fire. He was charged with "knowingly burning" a vehicle and pleaded not guilty.
Since Runions' disappearance, her family and Kopetsky's grew close, leaning on each other for support as they searched for their missing daughters, drawn together by their girls' connection to Yust.
But Yust was not accused of killing either victim — until this week.
Yust is now charged with two counts of first-degree murder and two counts of abandonment of a corpse, according to documents filed in Cass County court on Thursday, which include a probable cause statement.
Here is what we know about his alleged involvement in the girls' deaths, according to the probable cause statement:
Kopetsky
In April 2007, Kopetsky told police she had recently ended her relationship with Yust, and as she was leaving her job, he allegedly kidnapped her, forcing her into his car; Kopetsky said he drove around and eventually let her out.
After Kopetsky went missing that May, Yust allegedly told police he didn't have any contact with her the day she went missing. But Kopetsky's phone records reveal Yust wasn't truthful about the last time he had contact with her: It's alleged Yust called her May 4 at 9:20 a.m., one minute after she left her high school; she was last seen alive on surveillance footage at 9:19 a.m.
In 2010, a man who had been roommates with Yust the year Kopetsky vanished told police that in 2009, Yust told him that he was angry with Kopetsky because he didn't want her to love someone else. Yust allegedly told the roommate he "just snapped, and that something bad happened to the victim."
In 2011, someone identified in the statement as "KF" told law enforcement that Yust confessed to choking Kopetsky to death, watching her breathe her last breath and falling back against a chair, staring at her body for a short time before packing her up and depositing her in the woods.
In 2016, a roommate of Yust's told police that several years earlier, Yust had said he choked someone to death and no one would find the body unless he told them where it was.
In 2016, a cellmate of Yust's — while Yust was jailed on federal drug charges — told authorities that Yust allegedly admitted to killing "the victim by strangulation" and disposing of her body.
Runions
Witnesses said the night Runions disappeared, Yust was possessive toward Runions and the two were arguing.
Someone identified as "JC" told police in 2016 that "Yust told him that he strangled and killed" Runions and dragged her body into a wooded area. JC claimed Yust wanted help with burning her car and that he was with Yust when Yust set her car on fire.
Yust's attorney, Molly Hastings, did not immediately respond to ABC News' request for comment.
The charge of "knowingly burning" a vehicle in Jackson County has been dismissed and Yust was expected to be transferred to Cass County this afternoon; Cass County court said Yust's court date will not be set until he arrives in Cass County.
Jessica Runions' mother, Jamie Runions, told ABC News: "I just want honorable justice for my daughter and for her to be respected." Kopetsky's mother did not immediately respond to ABC News' request for comment.
Copyright © 2017, ABC Radio. All rights reserved.