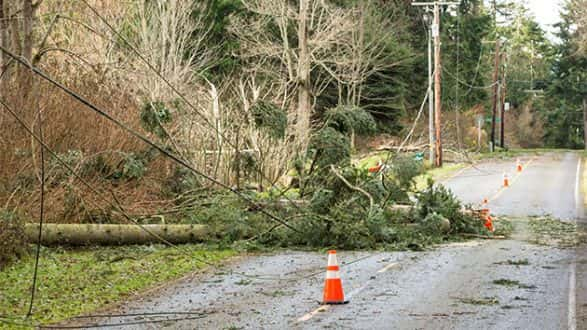 iStock/Thinkstock(RENTON, Wash.) — A woman was killed and at least five people were injured on Monday as damaging winds and heavy rain battered western Washington.
The woman, a mother in her mid-30s, died in Renton, Wash. — about 20 minutes south of Seattle — when a tree came crashing down on her car, according to the Renton Fire Department.
It is the first and so far only reported death caused by the strong winds and torrential rain that slammed western Washington on Monday, knocking down power lines and leaving more than 150,000 customers without electricity in the Seattle area.
At least five people were injured, including the deceased woman's sister and a 15-year-old girl in Port Orchard who was seriously hurt when a tree fell on her mobile home, authorities said.
The storm, the first of several expected to hit the Pacific Northwest this week, packed wind gusts of up to 80 mph in some parts of Washington, according to the National Weather Service. The storms are expected to bring heavy rain, mountain snow and breezy conditions through the rest of the week, the NWS said.
Winter Storm Warnings remain in effect through Tuesday afternoon, the NWS said, adding that another round of heavy mountain snow could be possible Tuesday night.
A second storm is expected to hit the Pacific Northwest late Tuesday and continue into Wednesday, bringing colder air and heavy snow to the mountain areas, including the Cascades, the Sierra Nevada and the Northern Rockies.
Copyright © 2017, ABC Radio. All rights reserved.