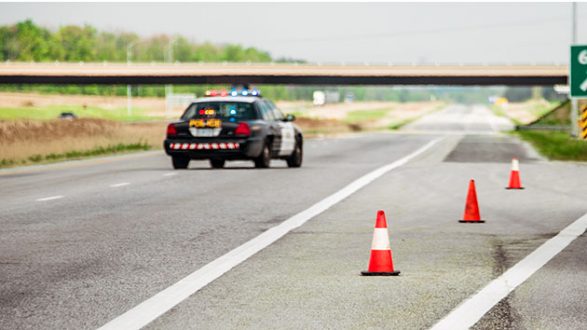 iStock/Thinkstock(ROCKFORD, Ala.) — U.S. marshals are on the hunt for an "armed and extremely dangerous" fugitive who escaped through the ceiling of an Alabama jail on Sunday afternoon. It is the second time Shane Anthony Vernon, 27, has escaped custody in less than a month, officials said.
After escaping Sunday from the Coosa County Jail, Vernon invaded a home in Rockford, Alabama, tied up its residents and stole a vehicle, Sheriff Bill Franklin of the Elmore County Sheriff's Office told ABC News.
After leaving the home, he drove seven-and-a-half miles to an area in Elmore County where he concealed the stolen vehicle in shrubs and branches in order to not be seen by the search helicopters, Franklin said.
He then went into another home in Elmore County, where he waited for another victim to get off of work, according to Franklin, and likely held that victim at gunpoint when he arrived home.
Vernon took another vehicle and left with the victim, driving about three hours to Douglasville, Georgia, Franklin said.
Douglasville Police alerted officials in Elmore County around 7:00 a.m. this morning that the stolen vehicle and the victim had both been found and that the victim was safe, Franklin said.
Vernon could be now in the metro Atlanta area, deputies told ABC Atlanta affiliate WSB-TV.
The U.S. Marshals Service is assisting in the hunt for Vernon.
"The U.S. Marshals Service for the Middle District of Alabama and the Gulf Coast Regional Fugitive Task Force is currently assisting the Coosa County Sheriff's Office and the Elmore County Sheriff's Office in locating and apprehending Shane Anthony Vernon. At this time, Vernon is wanted for multiple offenses and should be considered armed and extremely dangerous, his whereabouts are unknown," the U.S. Marshals Service told ABC News in a statement.
A statement on the Coosa County Jail's Facebook page said Vernon escaped after noticing that a correctional officer "had failed to properly secure one of the doors in the area of the jail he was in. Vernon was able to go through this door and gain access to the maintenance area in the ceiling of the jail." Vernon had been recaptured on Oct. 30 after previously escaping the jail, according to officials.
Multiple agencies are assisting in the search for Vernon, including the Alabama Law Enforcement Agency.
"As always, the Alabama Law Enforcement Agency is collaborating with local, state and federal law enforcement partners not only to locate and capture escaped inmate Shane Anthony Vernon, but to protect anyone who may cross his path," Hal Taylor, the Alabama secretary of law enforcement, told ABC News.
Copyright © 2017, ABC Radio. All rights reserved.