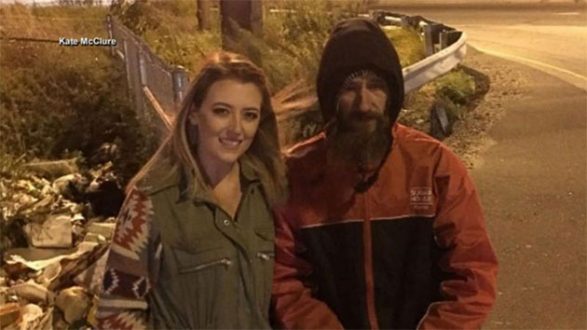 Kate McClure(NEW YORK) — A young woman has raised over $160,000 for a homeless man she said spent his last $20 to buy her gas after she became stranded on a major interstate.
On a fundraising page she has since set up for the man, Kate McClure, 27, wrote that she pulled off an exit ramp on I-95 near Philadelphia late one night when she realized her car was running out of gas.
A homeless man, Johnny Bobbitt, 34, spotted her vehicle and approached to offer her assistance, she said.
"Johnny sits on the side of the road every day, holding a sign. He saw me pull over and knew something was wrong," McClure wrote. "He told me to get back in the car and lock the doors. A few minutes later, he comes back with a red gas can."
Bobbitt, who McClure said she later learned is a Marine Corps veteran and a former firefighter, had used his last $20 to buy her gas. Wanting to repay him for his kindness, McClure started a GoFundMe page to share the story and raise funds for Bobbitt.
In addition to bringing him essentials to stay warm and repaying him for the gas, McClure's page has raised more than $160,000 in donations, far more than her $10,000 goal. McClure wrote that she would like to use the funds to help him with rent an apartment, get a reliable vehicle and cover four to six months worth of expenses.
Neither McClure nor Bobbitt immediately responded to ABC News' request for comment.
Copyright © 2017, ABC Radio. All rights reserved.