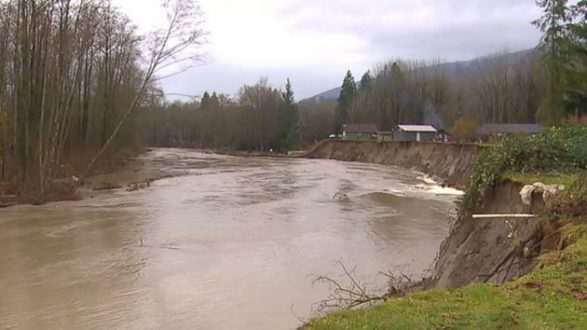 KOMO-TV(NEW YORK) — The weather, for most of the U.S. on Saturday and Sunday, will be ideal for heading out in search of those sought-after post-Thanksgiving sales.
That's right — for the most part, leave the umbrella and winter gear at home.
Sunshine is expected for most of the nation, including the southwest, Southern Rockies and most of the central part of the country. A relatively weak frontal system will bring some increasing clouds to parts of the eastern U.S., but precipitation should remain light and confined to the interior Northeast.
The only notable active weather pattern remains in the western part of the country. A pair of systems are making their way to the region this weekend — arriving late Saturday and lasting into early Monday — and it will bring the next round of rain, mountain snow and some wind from central California to Washington state. This is the only region of the country where there is a possibility of some travel delays over the weekend.
In central and northern California, winds will increase out ahead of the systems. There is potential for some accumulation in the mountain passes during this timeframe, which could hamper travel in some areas.
These aforementioned patterns may also aggravate river flooding in some areas.
The Skagit River in Washington state, which has been in flood stage the last several days, saw its banks in Lyman experience some erosion. The flooding threatened some homes in the area on Friday. The river hit its highest level since 2006 on Thanksgiving Day. Rivers in western Washington remain elevated this weekend due to the heavy rainfall the region has received over the last several weeks.
In the Pacific Northwest, windy conditions will develop Saturday night, with gusts possibly over 45 mph. Another 1 to 3 inches of rain are expected through the weekend, which could continue to aggravate some of the river flooding. Given that the region has been hit with several wet storms over the last few weeks, the risk for possible landslides and hillsides will persist through the weekend.
Some of this moisture will make it down to Santa Barbara and San Luis Obispo by Monday and Tuesday — but precipitation accumulation is expected to be fairly light.
Mild temperatures are sticking around parts of the southwest and central U.S. Friday was another day of extremely mild weather across the region with temperatures nearly up to 30 degrees above average in spots.
On Saturday, there is a chance for daily records once again across parts of the southwest. On Sunday, the possible record-breaking heat will expand toward Colorado, where Denver may experience temperatures in the mid-70s. On Monday, there will be numerous records challenged from the Southwest to the Central and Northern Plains, including Lincoln, Nebraska; Wichita, Kansas; and Denver, Colorado.
Good news: The mild trend is expected to continue for the next several weeks, with no notable cold blasts in sight.
Copyright © 2017, ABC Radio. All rights reserved.