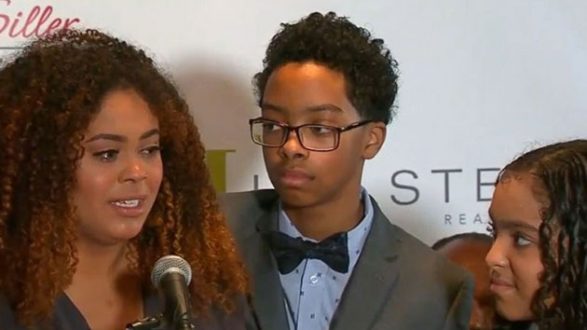 WABC-TV(NEW YORK) — The children of a New York City police officer who was killed in July while on duty have received an early Christmas gift that doesn't quite fit in a stocking: a fully furnished, mortgage-free, co-op apartment, gifted to them by a nonprofit organization.
The three children of NYPD detective Miosotis Familia — Genesis Villella, 20, and 12-year-old twins, Peter and Delilah Vega — officially accepted the home, located in the Riverdale section of the Bronx, on Friday from The Tunnel to Towers Foundation at a press conference, WABC-TV reported.
At the press conference Friday, the three children thanked New Yorkers and the foundation for their generosity.
"Something our mom always made sure was that we were well taken care of. She was the one who kept us afloat," Villella said, adding, "I owe it to my mom to make sure that the three of us will be taken care of in a loving and healthy environment."
The foundation's chairman, Frank Siller, said, "We know life can change in a moment. But we also wanted to surround you with support and grace so you could carry on."
Founded by the brothers of firefighter Stephen Siller, who died on 9/11, The Tunnel to Towers Foundation, along with the Daily News and Skyview Apartments LLC, were collectively able to raise more than $800,000 to purchase the three-bedroom apartment for Familia's children.
To date, The Tunnel to Towers Foundation has raised more than $4 million to purchase new homes for the families of slain first responders.
Allowing the children to be free of financial burden, the donations will cover the mortgage, maintenance fees and property taxes. Villella said she is postponing college to care of her younger twin siblings.
Familia, 48, was an officer of the 46th Precinct who was shot and killed while sitting in a mobile command unit by Alexander Bonds on July 4 in the Bronx. News of Familia's death captured the hearts of New Yorkers. She was the first female NYPD officer killed in the line of duty since Sept 11.
The children are expected to move into their new home just in time for Christmas.

Copyright © 2017, ABC Radio. All rights reserved.