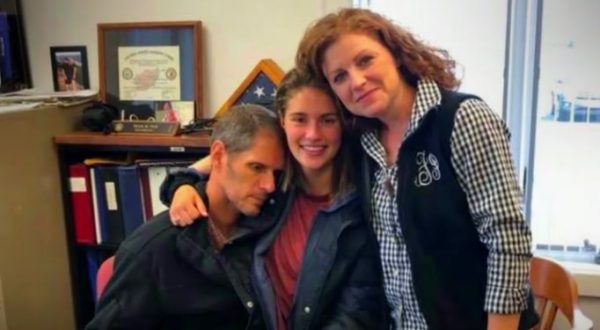 ABCNews.com(SYRACUSE, N.Y.) — A 27-year-old high school soccer coach has waived his extradition to Florida after he and a missing teenage girl were found together in upstate New York.
Caitlyn Frisina, 17, was found safe Friday in a car in Syracuse with Rian Rodriguez, who is a family friend and assistant soccer coach at her Florida high school, authorities said. She had last been seen at home six days earlier.
While Frisina has been reunited with her parents, Rodriguez is being held in New York on a Florida warrant for alleged custodial interference, Onondaga County District Attorney William Fitzpatrick said.
He appeared in front of an Onondaga County Court judge this morning where he was appointed an attorney. Rodriguez was also informed of the charges and chose to waive his extradition. Florida authorities have two weeks to pick him up.
The incident began Nov. 26 when Frisina's parents reported her missing. She had last been seen at her home the night before.
Frisina and Rodriguez were spotted on cameras in Georgia and then at a pawn shop in Fayetteville, North Carolina.
Caitlyn Frisina's mother, Scarlett Frisina, called friends of her missing daughter and "discovered she is possible in a relationship with her assistant soccer coach Rian Rodriquez," according to an affidavit.
A friend of Caitlyn Frisina's sent a message to Scarlett Frisina saying the missing teen "hooked up with Rian and he worked his way into her life," the affidavit said.
Rodriguez allegedly wanted to leave the country with the teen "and she didn't know how to get out of it," the affidavit said. "She said she was scared and she didn't know what to do."
On Friday around 4 p.m. ET, a New York State Police officer in Syracuse spotted the car the teen and coach were believed to have fled in, according to the Columbia County Sheriff's Office. The officer pulled the car over and took Rodriguez into custody without incident, the sheriff's office said.
Caitlyn Frisina was reunited with her parents. The Frisina family said this weekend, "We are incredibly grateful for all of the coverage and assistance everyone offered during this very trying time."
Rodriguez was suspended from his coaching job pending the investigation, according to a statement from Lex Carswell, superintendent of Columbia County Schools.
The Columbia County Sheriff's Office will hold a news conference in Lake City, Florida, this afternoon.
Copyright © 2017, ABC Radio. All rights reserved.