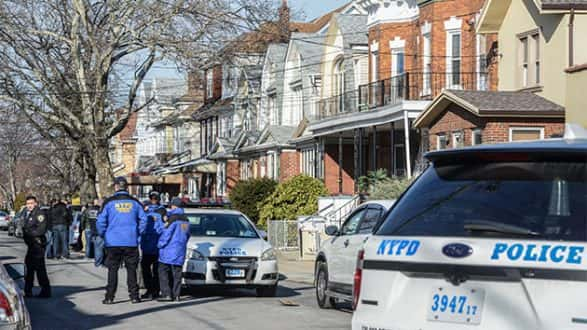 Stephanie Keith/Getty Images(NEW YORK) — The family of the man accused of detonating an explosive in the New York City subway system Monday morning said they are "heartbroken" by the allegations.
The explosion occurred in an underground passageway near the Port Authority Bus Terminal, sending commuters scrambling to evacuate a major transit hub just blocks from Times Square. Despite the rush-hour crowds, only five people suffered minor injuries, officials said.
The 27-year-old suspect, Akayed Ullah, is in the hospital, badly injured in the arm and torso from the device that went off in his arms, law enforcement sources said.
"We are heartbroken by the violence that was targeted at our city today, and by the allegations being made against a member of our family," the family said in a statement, which was read in front of the Ullah family's home in Brooklyn by Albert Fox Cahn, legal director for Council on American-Islamic Relations-New York.
"But we are also outraged by the behavior of law enforcement officials who have held children as small as 4 years old out in the cold and who held a teenager out of high school classes to interrogate him without a lawyer, without his parents," the statement continued. "These are not the sorts of actions that we expect from our justice system, and we have every confidence that our justice system will find the truth behind this attack and that we will, in the end, be able to learn what occurred today."
It's not clear who the children and the teenager referred to in the statement are.
Ullah, originally from Bangladesh, told authorities he is self-inspired from ISIS online propaganda, sources said. Ullah told authorities no one directed him to carry out the attack and he talked about the plight of Muslims over the years, a law enforcement source said.
Ullah entered the United States from Bangladesh seven years ago on a family-based visa and has an address in Brooklyn, sources said. The explosive was assembled in his apartment, sources said.
Video of the incident, shot by a surveillance camera, shows commuters walking in the passageway when the explosion erupts. The camera screen filled with smoke as people scattered.
Christina Bethea, 29, told ABC News she was in the passageway on her way to work next to the terminal when she heard a bang, saw smoke and ran.
"If I didn't believe in God, I believe in God today," she said, adding that she commuted from Yonkers, New York.
Copyright © 2017, ABC Radio. All rights reserved.