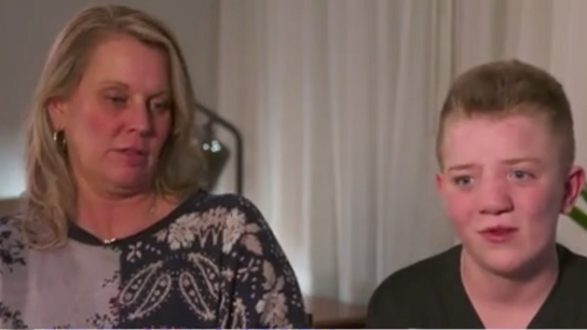 ABC News(NASHVILLE, Tenn.) — A young Tennessee boy whose story gained national attention after his mother posted a heart-wrenching video of him addressing his bullies said he is amazed by all the support he's received on social media this week.
Eleven-year-old Keaton Jones said he "never imagined" his story would gain the attention of dozens of celebrities, including Donald Trump Jr., who offered him an invitation to his home.
"All this attention really just feels amazing," Keaton said in an interview with ABC News' Good Morning America. "[I'm] speechless, honestly. I did not ever imagine for any of this to happen.
"I think my message is being heard because, I mean, we've gone national. So many people are supporting us," he added.
Keaton became an internet sensation this week after his mother, Kimberly Jones, posted a video on Facebook showing Keaton's sobbing as he described how he was bullied by classmates, who poured milk over his head, stuffed ham in his clothes and threw bread at him.
"Why do they bully, what's the point of it?" Jones said in the video, which was first posted Friday. "Why do you find joy in taking innocent people and finding a way to be mean to them? It's not OK."
Keaton today said he made the video because he wanted to let people know that bullying is "a serious thing."
"I made the video to raise awareness for bullying, not for fame or fortune, it was not at all for that. It was to raise awareness to bullying," he said. "[It's] a serious thing that goes on in our society. People criticize other people for the way they look and act; it's not their fault."
Musicians, actors, TV personalities and athletes have responded to Keaton's video on social media using the trending hashtag #StandWithKeaton to show their support for the middle school student.
Keaton said the most exciting celebrity response he got was from actor Chris Evans, who urged him to "stay strong" and invited him to Los Angeles to see the premiere of the Marvel Studios-produced "Avengers: Infinity War" next year.
"The most exciting celebrity for me is Chris Evans. I love Captain America," Keaton said. "It's been a dream of mine since I was little for Captain America to know who I am.
"Well, he knows who I am," he added.
So does his Tennessee school district.
"To fulfill our mission of educating all children in Union County Public Schools, we must provide an academic environment that is safe, civil and supportive," Union County Public Schools director James Carter said in a statement.
"We do not and will not tolerate bullying and have a policy in place that addresses conduct taking place on school grounds, at any school-sponsored activity, on school-provided transportation or at any official school bus stop."
Meanwhile, Keaton's mom made an effort to dispute claims that she was using their story to extract money from people. She approved one GoFundMe campaign to be set up in Keaton's honor, but cautioned that others were fakes.
Jones also addressed allegations that she was racist after pictures surfaced on social media of her holding a Confederate flag.
"I feel like anybody who wants to take the time to ask anybody who I am or even troll through some other pictures, I mean I feel like we're not racist," Jones said. "I mean, people that know us, know us."
Copyright © 2017, ABC Radio. All rights reserved.