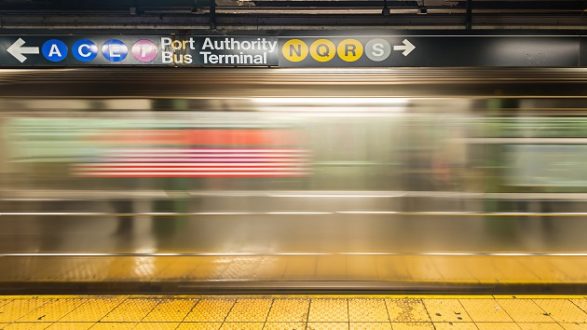 iStock/Thinkstock(NEW YORK) — Twenty-four hours after a homemade explosive was detonated in a New York City subway passageway, New Yorkers are back to their daily routines — including walking through that same tunnel on their way to work.
The Monday morning explosion occurred in an underground passageway near the Port Authority Bus Terminal, sending commuters scrambling to evacuate a major transit hub just blocks from Times Square. Five people suffered minor injuries.
Commuter Robin Danzy told ABC News she "was about to come down into the train station" at the time.
"I just missed it," she added.
Today, as Danzy walked along the same passageway, she said, "You would never know that anything happened yesterday from the people going back and forth."
But Danzy said she's "nervous."
"It's really, really scary," Danzy said. "But you can't stop living. You can't stop going to work. There's really nothing you can do except hope that police who are trained in anti-terrorism are able to spot whatever's going on. You just keep moving. And you hopefully have a strong belief in the man upstairs. What else can you do?"
With 6 million riders a day, NYPD Counterterrorism Chief James Waters told ABC News the subway system is safe and he vowed it would stay that way.
The bombing suspect, Akayed Ullah, 27, is "intending to cause death and destruction and fear in New York City, and he's just not going to accomplish that," Waters said.
Ullah, who was badly injured from the explosion, made statements to police indicating he "was inspired by ISIS to carry out" the attack and said, "I did it for the Islamic State," according to the charging document.
There is no evidence he received funding or specific direction from any overseas group, police sources say.
Ullah is charged with five federal counts, including use of a weapon of mass destruction and bombing a place of public use.
Joon Kim, acting U.S. attorney for the Southern District of New York, said at a news conference today that Ullah allegedly aimed to "murder as many innocent human beings as he could and to blow himself up in the process — all in support of a vicious terrorist cause."
The event comes less than two months after a man plowed a truck into a crowd on a lower Manhattan bike path, killing eight people.
The man accused of carrying out that attack, Sayfullo Saipov, 29, was allegedly "inspired" to commit it after watching ISIS videos on his cellphone and he "wanted to kill as many people as he could," according to a federal criminal complaint filed by prosecutors.
Kim said New York City "consistently remains" a prime target for terrorism.
"We are targeted by those whose poisoned minds think that killing innocent Americans here in this city will somehow advance their twisted ideology," he said.
There are no credible and specific threats against New York City at this time, officials said Monday.
Hours after Monday's explosion, New York Governor Andrew Cuomo tweeted, "Let's get back to our daily business. We will never allow them to disrupt us. That's exactly what they want."
New York City Mayor Bill de Blasio's press secretary even tweeted a photo of the mayor riding the subway Monday afternoon, writing, "New Yorkers won't be deterred."
Former Secretary of Homeland Security Jeh Johnson walked through the tunnel under Port Authority this morning as part of his daily commute 24 hours after the attack.
"My daily commute is frequently through this bus station on the way to work," Johnson said. "Yesterday at this time I walked above ground between 8th and 7th Avenue on 42nd Street … at the time of the attack."
Johnson told ABC News, "Today I wanted to make a point of coming through this subway, this specific passage at this exact time, to really demonstrate what a lot of New Yorkers are demonstrating — which is that events like this happen, but we're strong, we're resilient, we go on and we are not afraid."
"It's important in the face of an event like this," he said, "to show that terrorism cannot prevail if people refuse to be terrorized."
Copyright © 2017, ABC Radio. All rights reserved.