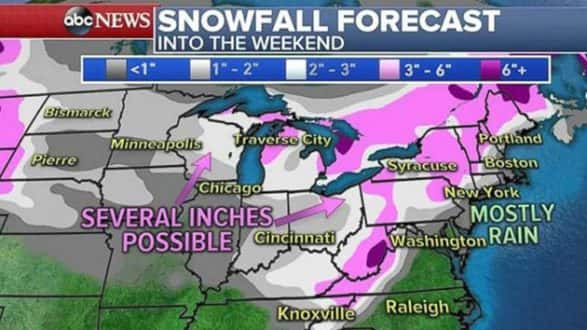 ABC News(NEW YORK) — Millions of commuters from New York to Boston are in for slick conditions Friday morning as a storm system moving through the Northeast will deliver rain, snow and freezing temperatures.
Snow fell overnight in Pennsylvania, upstate New York, Connecticut and in other parts of New England that saw several inches of accumulation.
Heading into the weekend, a storm system from the Pacific Northwest that is moving into the Midwest and Great Lakes area may bring several inches of snow to Minneapolis, Detroit and Chicago.
The heaviest expected snowfalls will be near the Great Lakes region and inland Northeast, as well as New England. Washington, D.C. and Boston may see rain on Sunday.
The Midwest and Northeast also will be blasted by Arctic air, dropping temperatures in some places into the teens or single digits. At 10 a.m., it will be about 10 degrees in New York.
The wind chill early Saturday morning in parts of the Northeast will be below zero.
More Arctic air is expected to move into the Upper Midwest and Great Lakes area on Sunday, just in time for the Super Bowl, which will be played inside U.S. Bank Stadium, home of the Minnesota Vikings, as temperatures outside may be the coldest in the 52-year history of the game.
Copyright © 2018, ABC Radio. All rights reserved.