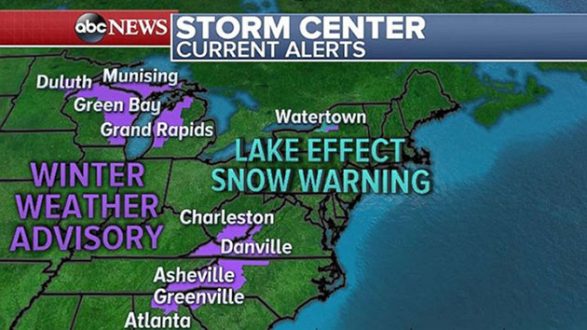 ABC News(NEW YORK) — Much of the Upper Midwest and Eastern U.S. is in the midst of a February cold blast. Wind chills on Saturday morning along the I-95 corridor from Washington, D.C. to Boston were in the low teens and single digits. The wind chills were below zero in interior New England.
Single-digit wind chills are expected Saturday morning for much of the Midwest, including Chicago, Columbus and Detroit. Chilly winds will be felt all the way south to the Florida-Georgia border, where wind chills will be in the 20s.
Temperatures in the East will moderate a bit on Sunday, but a bitter blast of cold air will move into the Upper Midwest and Northern Plains. The wind chill in Minneapolis Sunday morning will be nearing minus 20, as a wind-chill advisory has been issued for other parts of Minnesota and the Dakotas. With wind chills of minus 20 to minus 30, frostbite could develop in as little as 30 minutes.
The Upper Midwest also will see more freezing-cold wind, with snow in the Dakotas and light snow falling as far east as Indianapolis. This disturbance is expected to slide south and east, dropping snow into Iowa, Illinois and Wisconsin on Saturday night. By Sunday, the storm may tap into some moisture across the South and bring heavy rain, ice and snow to the Eastern U.S.
Light to moderate snow will develop and move through the Ohio Valley and Great Lakes Sunday morning. Heavier bursts of snow will limit visibility greatly in cities such as Louisville, Columbus, Erie, Detroit and Chicago.
Of particular concern will be a combination of snow, freezing rain and sleet that will fall between the northern suburbs of Atlanta and Southwest Virginia. In addition to a light accumulation of snowfall, a thin layer of ice may form, making travel in this region treacherous. Atlanta should be warm enough to stave off any serious ice issues itself.
The interior Northeast — especially Buffalo, Watertown and Burlington — will get more snow as the I-95 corridor can expect more rainfall.
This developing storm may drop 2 to 4 inches of snow from Iowa to Maine. Some Great Lakes areas may see extra moisture and snowfall totals closer to 6 inches, especially in Western Michigan and Northwest New York. Watertown may see 10 inches because of lake-effect snow.
Meanwhile, areas out west may see temperatures 15 to 20 degrees above average.
This weekend, the West may see record highs throughout the region, especially in California. Temperatures in the Los Angeles and San Diego metro areas will be 80 degrees or higher — about 10 to 15 degrees above normal.
Most of the western U.S. will see milder temperatures on Saturday, with 50s expected from Denver to Seattle.
Copyright © 2018, ABC Radio. All rights reserved.