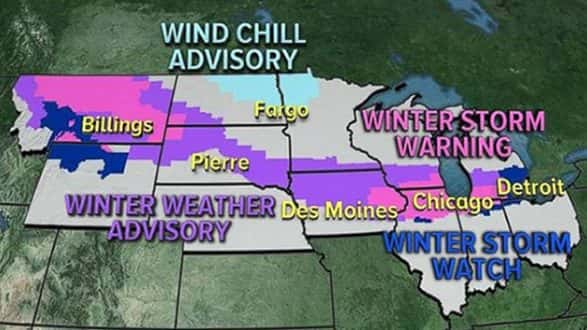 ABC News(NEW YORK) — Just as a powerful storm finally passes through the Midwest, yet another is on its way to dump even more snow in that region as well as the Northeast.
Parts of New Hampshire received as much as 13 inches of snow on Wednesday. In Maryland and West Virginia, half an inch of ice accumulated. Erie, Pennsylvania, got about 3.2 inches of snow, giving the city 152.1 inches for the season — its most ever.
Ahead of a new storm blasting through the Upper Midwest, 12 states from Montana to Ohio are heeding winter-weather alerts.
The storm system is making its way out of the Northern Rockies on Thursday morning, spreading snow down to the Dakotas.
By Thursday evening, snowfall will stretch from Sioux Falls, South Dakota, to just west of Chicago.
Late Thursday, snow will begin falling in big cities, including Chicago, and continue for most of the night. Driving conditions will be hazardous, if not impossible, in areas stretching past Cleveland.
Snow likely will continue in that region through Friday's evening rush hour and move into the Northeast.
The heaviest snowfalls are expected in southern Wisconsin and northern Illinois, where Chicago may see its biggest snowfall in more than a year.
Copyright © 2018, ABC Radio. All rights reserved.