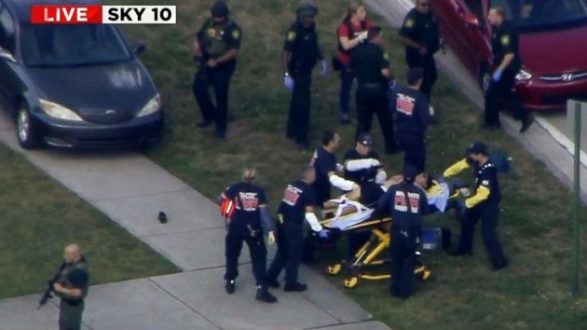 WPLG
(PARLAND, Fla.) — A gunman opened fire at a Southern Florida high school today, killing 17 people and sending students running for their lives, according to two law enforcement officers on the scene.
— At least 14 victims were taken to hospitals from the incident at Stoneman Douglas High School in Parkland, the Broward Sheriff's Office said, though their conditions were not immediately clear.
— The suspect, 19-year-old Nikolaus Cruz, was taken into custody off campus. He slipped out of the school after the shooting by blending in with other students who were trying to escape, according to two law enforcement sources and an eyewitness.
— The sheriff said Cruz had attended the school but was expelled for disciplinary reasons.
— Cruz had "countless magazines" and was believed to have an AR-15 rifle, the sheriff said.
— Students were seen sprinting out of the school with their hands up as authorities with guns drawn swarmed the area. Other students were seen lined up one by one, leaving the area in an orderly fashion. Some students were hysterical, reported ABC affiliate WPLG.
Student Michael Katz told ABC News that at the end of the day he "heard what sounded like a garbage truck like banging."
"Then also I hear, 'Boom, boom, boom.' I hear screaming everywhere," he said. "I just got underneath my teacher's desk."
"We had police invade the school, and we were taken out," Katz said. "Fortunately, my father was there to pick me up."
One mother shaking with worry told WPLG her daughter said she was OK, huddled in a locked classroom.
"She's terrified," the mother said. "I'm glad that she's able to text."
Freshman student Samuel Dykes told the Orlando Sentinel that he was on the third floor of the school when he heard gunshots.
Officers told students to look forward as they evacuated, but Dykes told the newspaper that he saw several bodies in a classroom.
Another mother told the affiliate that her daughter "keeps telling me to stay away. 'Be safe, Mom, stay away.'"
"I won't stay away," she said, telling her daughter, "I'm your mother."
Broward County Sheriff Scott Israel called it a "horrific homicidal act."
Investigators are probing Cruz's social media accounts for clues, the sheriff said, calling some of the things posted "very disturbing."
"If you see something, say something," Israel said at a news conference. "If anybody has any indicator that someone's going through a behavioral change, on social media if there are disturbing photos, perhaps bombs or firearms or just videos or pictures that are just not right, please make sure law enforcement knows about it."
There are over 3,000 students at the school, according to its website.
President Donald Trump tweeted, "My prayers and condolences to the families of the victims of the terrible Florida shooting. No child, teacher or anyone else should ever feel unsafe in an American school."
Additional information was not immediately available.
This story is developing. Please check back for more updates.
Copyright © 2018, ABC Radio. All rights reserved.