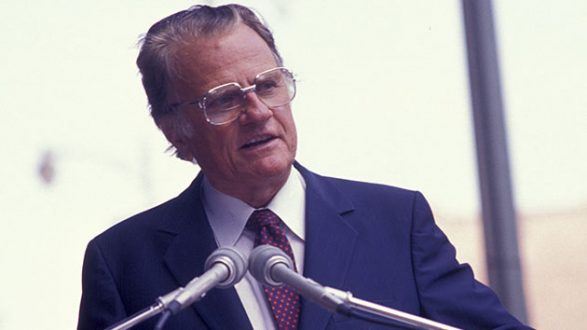 Ron Galella Ltd./WireImage(NEW YORK) — Billy Graham, one of the world's most famous Christian evangelists, has died, a family spokesman said. He was 99.
Graham died at his home Wednesday morning, the spokesman said.
Known as "America's pastor," Graham was a key figure in the revival of the U.S. evangelical Christian movement. The preacher began holding revival meetings in the 1940s and went on to become an adviser to several U.S. presidents.
He had been in poor health in recent years, and had turned his international ministry over to his son, Franklin Graham.
Despite numerous hospitalizations in recent years, Graham's work remained in the public eye late into his life. In 2011, around his 93rd birthday, he released what reports said was his 30th book, Nearing Home: Life, Faith, and Finishing Well, on the subject of aging. Also in 2011, audio files documenting six decades of his ministry were put online in a searchable database.
Graham brought evangelical Christianity into the mainstream. As a spiritual adviser to U.S. presidents, he had great access to the White House.
"Each one I've known long before they ever became president, been in their homes many times, always called them by their first names until they became president," Graham said of several former presidents.
He was especially close to Dwight D. Eisenhower, Lyndon Johnson, Richard Nixon, Ronald Reagan and both Bushes.
Bill Clinton turned to him after his much-publicized sex scandal, and George W. Bush credited Graham with helping him to quit drinking alcohol.
When asked how his life would be different if it were not for Billy Graham, George W. Bush said, "I wouldn't be president."
Donald and Melania Trump met Graham at the preacher's 95th birthday party in 2013, but they never met after Trump took office as president.
The evangelist brought his "Billy Graham Crusades" around the world, preaching to more than 210 million people in 185 countries and territories. His largest such gathering drew 1 million people in Seoul, South Korea, in the 1970s.
As Graham prepared at age 86 for what he called his final U.S. crusade — a three-day event in New York City during the weekend of June 25, 2005 — he pondered his own mortality.
"Do I fear death?" he asked at a news conference. "No. I look forward to death with great anticipation. I'm looking forward to seeing God face to face, and that could happen any day."
Billy Graham had been admitted numerous times in recent years to Mission Hospital in Asheville, North Carolina, for a pulmonary condition. Upon being admitted on Nov. 30, 2011, he was seen "alert, smiling and waving at hospital staff," his family said in a statement at the time.
He was diagnosed with Parkinson's disease in 1989. He also suffered from prostate cancer and hydrocephalus, or fluid on the brain, according to official reports. In January 2004, he fell and fractured his left hip; afterward, he used a walker to move about.
A born preacher
Graham was born Nov. 7, 1918, in Charlotte, North Carolina, and raised on a dairy farm in nearby Montreat. The eldest of four children in a strict Presbyterian family, he was known as "Billy Frank" in his teenage years.
His life began to change at age 16 when he heard the fiery sermon of a traveling evangelist named Mordecai Ham, who persuaded him to give his life to Christ during a spiritual revival. He attended Bob Jones University in Greenville, South Carolina, but left after one semester, saying the religious school was too strict.
He went on to Florida Bible Institute, now called Trinity College, near Tampa and was ordained a Southern Baptist minister in 1939.
At Wheaton College in Illinois, he majored in anthropology. In 1943, he married fellow Wheaton student Ruth McCue Bell, daughter of a missionary doctor. They remained married until her death in 2007.
From 1947 to 1952, Graham served as president of Northwestern College in Minneapolis. It was during this period that he began holding revival meetings with singer George Beverly Shea and song leader Cliff Barrows.
By 1949, his career was taking off, as some 10,000 people were turning out to hear Graham's preaching on a regular basis. A New York City crusade in Madison Square Garden in 1957 ran nightly for 16 weeks.
Graham founded the Billy Graham Evangelistic Association in 1950, running it for 50 years before retiring and handing it over to his son, the Rev. Franklin Graham, in November 2000.
Graham began preaching overseas in 1954 with a visit to Great Britain, where more than 2 million people attended his rallies. He held hundreds of rallies around the world, including South Africa, South Korea, Poland and Romania. In 1990, he toured China, something he would later call the "greatest crusade of my life."
Graham's autobiography, Just As I Am, was published in 1997.
From preacher to power broker

Graham met with criticism in February 2002, when tapes released from the Nixon White House revealed a 1972 conversation with Nixon in which Graham said Jews had a "stranglehold" on the media.
He later apologized and said his work with Jews over the years belied that remark.
Family business
After Franklin Graham took over as CEO of the Billy Graham Evangelistic Association, the elder Graham continued to serve as chairman of the board. Franklin Graham also ran his own ministry, the Samaritan's Purse international relief organization.
The other four Graham children also got into the family business, either through their own ministries or evangelical speaking.
Graham is survived by three daughters, two sons, and numerous grandchildren and great-grandchildren.
Copyright © 2018, ABC Radio. All rights reserved.