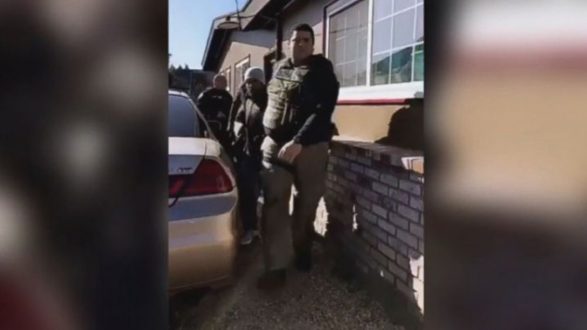 Helena Ponce(NAPA, Calif.) — Immigration and Customs Enforcement arrested a man in his backyard on Sunday in California in a video captured by his wife.
Helena Ponce told Los Angeles ABC affiliate KABC-TV that ICE went into the family's backyard in Napa, California, asked her husband his name and arrested him without any problems. His daughter also watched as multiple ICE agents put him in their car.
Ponce's husband, 39, immigrated to the U.S. from Mexico when he was 4 years old, according to his family.
"He went to work. He didn't drink or do anything or wasn't doing anything wrong. We just assumed they were coming after people who really are doing wrong stuff," Ponce told KABC-TV. "I wanted to cry but that's not going to solve anything."
Helena sought the help of the North Bay Organizing project, an organization that helps undocumented immigrants after they are taken into custody by the ICE.
"We feel it's a tactic to increase fear in the community and to cause them to forget they have rights and that's why Rapid Response exists so we can remind people they have rights," Karla Marquez, a community organizer from North Bay Rapid Response Network, told KABC-TV.
According to the Public Policy Institute of California, there are more than 2 million undocumented immigrants living in the state, which makes up close to a quarter of the country's undocumented immigrants. KABC-TV reported Ponce was one of several arrests made in Northern California over the weekend.
Copyright © 2018, ABC Radio. All rights reserved.