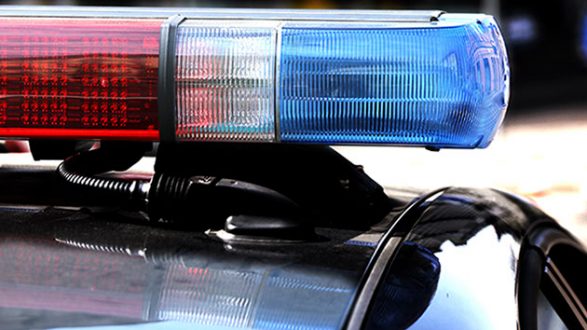 iStock/Thinkstock(MOUNT PLEASANT, Mich.) — The gun that a Central Michigan University student allegedly used to kill his parents on campus Friday belonged to his father, who was an Illinois police officer, officials said.
The student, 19-year-old James Eric Davis Jr., was found along train tracks north of the campus in Mount Pleasant shortly after midnight Saturday, following an hourslong manhunt. He was arrested without incident.
However, the student appeared to be suffering from hypothermia and was "not making a lot of sense," said Central Michigan University Police Chief Bill Yeagley. Davis Jr. was taken to a local hospital, where he remained under custody Saturday morning, Yeagley added.
"The investigation has many, many more hours," Yeagley said at a press conference Saturday. "We are not at all done."
Authorities recovered a weapon at the scene of Friday's shooting, which Yeagley said was a gun registered to the suspect's father, Bellwood Police Officer James Davis Sr. It was unknown whether the firearm was the father's service weapon or if the father had brought the gun to campus when picking up his son on Friday.
Davis Sr. and his wife, Diva Jennen Davis, were the victims in the shooting, officials said.
Bellwood Mayor Andre Harvey told reporters he grew up with Davis Sr., who had been a family friend and a part-time police officer with the department for more than 20 years. He described Davis Sr. as an "outstanding officer" who was "loved by all here at the Village of Bellwood," and his wife as a "wonderful woman."
"James Davis touched everybody's lives in the Village of Bellwood in a positive manner," the mayor told reporters Friday night.
The parents have at least two other children: an older son and a younger daughter, according to Harvey.
Police had contact with the suspect Thursday, when he claimed someone was trying to hurt him, but he provided only "extremely vague" details. Officers ultimately were not able to identify any risk, Yeagley said.
Later on Thursday, when officers were responding to an unrelated incident at a high-rise building on campus, they saw Davis Jr. in the hallway with numerous suitcases and bags. He was acting and speaking in a way that was "not reasonable or logical," and the officers suspected drugs might be involved, Yeagley said.
The student called his parents, and one of the officers spoke to his mother, explaining the situation. The mother also expressed concern that drugs could be involved, and told the officer that she and her husband would come to campus immediately.
Davis Jr. was ultimately transported to a local hospital for observation, where he stayed overnight until his parents picked him up Friday morning. Then they drove their son back to campus, where students were moving out for spring break.
A witness spotted Davis Jr. holding a gun as he walked from a parking lot on campus and into Campbell Hall. Investigators have collected video and photos supporting the witness' statement, Yeagley said.
It's unclear whether a university staff member or officer was monitoring the entrance of the residence hall when the suspect came in with the weapon. But Yeagley said it wouldn't be "unusual or surprising" if no one was at the door, given it was spring break move-out day and students were coming in and out with their parents.
Davis Jr. walked upstairs to the fourth floor of Campbell Hall, where he allegedly shot and killed his father and his mother. He then fled the scene on foot.
Authorities last saw Davis Jr. on surveillance video on Cherry Street alongside a railroad track, before they ultimately apprehended him, Yeagley said.
No students, faculty or staff were injured in the incident Friday, according to the university.
Charges against Davis. Jr. are pending.
Copyright © 2018, ABC Radio. All rights reserved.