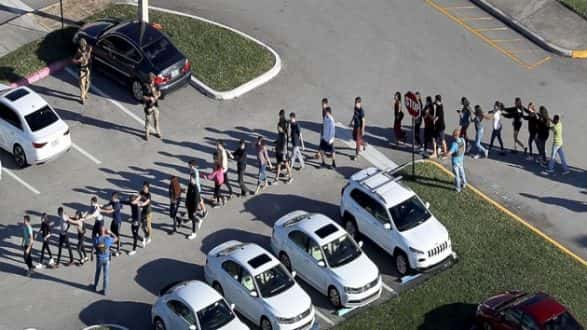 Joe Raedle/Getty Images(NEW YORK) — A former substitute elementary school teacher has developed a gunshot alarm system that would work similarly to a fire alarm inside a school building alerting teachers, students and first responders to an active shooter.
Stacy Jax, a former substitute teacher in Wisconsin, first came up with the idea in the wake of the Sandy Hook Elementary School shooting that left 20 children dead in 2012.
"When Sandy Hook happened, I really identified with my child being in that classroom or being in that classroom as a teacher, which made it really hit home," Jax told ABC News.
Jax is currently working with software developers to bring her idea to fruition in a system known as the Trinity Gunshot Alarm System, which she hopes will be ready to go live inside school buildings this summer.
Sensors are placed throughout the building that constantly scan for the sound of gunfire, Jax explained. Once a sensor detects a gunshot, the system's computer can differentiate and confirm that the sound is gunfire and not a different loud noise that is common in a school, like a locker slamming. If a gunshot is confirmed, the system sounds a building-wide alarm that allows teachers what may be valuable seconds to barricade their classrooms or evacuate their students. At the same time, it calls police, providing them with specific information about where in the building the shots were fired, according to Trinity's website.
"The alarm will be every bit as loud as a fire alarm," Jax said. "I am hoping it will be a deterrent for a gunman."
Fire alarms are in fact ubiquitous in schools.
"Just about every single state requires a fire alarm system of some sort in schools," said Richard Rux of the National Fire Protection Association.
According to data from NFPA, there has not been a school fire in which more than 10 kids were killed in the last 64 years.
Such data sparks Jax's hope that her technology can be just as successful as fire alarms at preventing students from dying in shootings, she said.
"I love the idea of it," Greg Shaffer, a former FBI special agent and member of the bureau's elite Hostage Rescue Team, told ABC News.
"When you pull a fire alarm in a school, the alarm, the alert, goes throughout the school. Having the same thing for an active shooter is an outstanding idea," said Shaffer, the founder of Shaffer Security Group, which specializes in active shooter responses.
However, Shaffer cautioned that an alarm system, like Trinity, is not enough on its own to protect schools, but instead should be part of a multi-prong attack involving more armed security personnel on school grounds, metal detectors, bag checks and better training for teachers on how to effectively barricade their classrooms or evacuate their students.
"This is one piece of the puzzle," Shaffer said. "It's the communication aspect. You gotta communicate the problem to first responders."
Shaffer also noted that the location data transmitted by Trinity to first responders about where inside the school shots were fired is particularly valuable, as it could prevent confusion among first responders like the kind that happened at Marjory Stoneman Douglas High School where 17 students and teachers were shot and killed last month.
However, Chris Grollnek, another active shooter expert, pointed to potential complications in using a system like this if all neighboring police jurisdictions that respond don't have access to it.
"If it doesn't plug and play into police dispatch systems," Grollnek said, "it's not really a solution, it's actually another potential problem."
Ultimately though, Shaffer believes the system has promise when used in conjunction with other proven methods to keep schools safe.
"It's saving minutes and minutes are lives," Shaffer said.
Copyright © 2018, ABC Radio. All rights reserved.